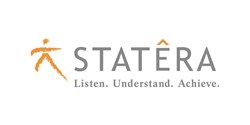 We love helping with Warren Village and the Holiday Shop is one of our favorite events of the year! - Nicole Incorvaia, Recruiter, Statêra
Englewood, CO (PRWEB) December 20, 2013
Holiday Shop supported by Warren Village in Denver, assists single-parents and their children in shopping for holiday gifts for their loved ones free of charge. This enables children get wonderful gifts for their parents and vice versa when there otherwise may not have been an abundance of gifts given that year.
The event is brought together by many individuals, corporations and community groups that donate gifts for the families or volunteer their time for either personal shopping (helping the families one-on-one in choosing gifts), set-up, gift acceptance, sorting and displaying donations, gift wrapping, child care volunteers, hospitality, bus drivers and clean-up. Statêra was happy to support the Holiday Shop and regularly volunteers and donates to Warren Village during the year.
"We love helping with Warren Village and the Holiday Shop is one of our favorite events of the year!" said Nicole Incorvaia, Recruiter, Statêra, "Seeing the joy on each family member's face is an experience that I will never forget," added Nicole.
About Warren Village
Warren Village exists to help low-income single parent families achieve personal and economic self-sufficiency—and to sustain it. Single parents living at Warren Village are dedicated to improving their lives and creating a better future for their children and themselves. Our comprehensive program is designed to get our clients on solid footing so that when they leave us they're ready to create sustainable stability for themselves and their families. That's why our clients complete a rigorous program that includes working or attending school full-time, attending life skills classes and volunteering. Living at Warren Village is not a handout, but a hand up.
About Statêra
Statêra is a leading IT services provider that helps companies to optimize performance by mapping strategic goals and objectives to IT initiatives. With over a decade of experience, Statêra leverages best practices and uses today's top technology solutions to provide powerful insight into your enterprise, solve your mission-critical problems, drive return on investment and transform your business. We are experts in moving our clients to the Cloud, CRM, web and mobile platforms, and collaboration software, as well as custom software applications development. Our IT services, IT project management, strategy consulting and managed cloud services brokerage balance people, process and technology to get your technology needs met on time and on budget. Headquartered outside of Denver, Colorado, Statêra has local offices in Dallas, Texas; Phoenix, Arizona; Salt Lake City, Utah; and Seattle, Washington, near and off shore delivery centers, and clients worldwide. Call us at 1.866.697.0266 or visit http://www.Statera.com.