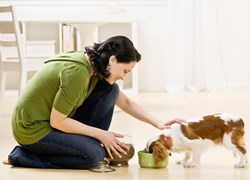 Oftentimes, pet owners, and even news outlets, use the term 'pet sitter' carelessly, referring to anyone—from a family friend to the neighborhood teenager asked to walk a dog—as a 'pet sitter.'
King, N.C. (PRWEB) December 26, 2013
With U.S. pet ownership at an all-time high, the need for pet-sitting services will continue to grow in 2014. For the 82.5 million pet-owning U.S. households, Pet Sitters International (PSI), the world's leading educational association for professional pet sitters, offers this advice: Make a New Year's Resolution to only use the services of a professional pet sitter in the coming year.
Recent news reports described the horror of a dog left to starve to death by a family friend while the owner was helping his wife at a hospital in another state. Reports of theft, pet injuries or property damage at the hands of a person asked to provide pet care are, unfortunately, not uncommon.
"Oftentimes, pet owners, and even news outlets, use the term 'pet sitter' carelessly, referring to anyone—from a family friend to the neighborhood teenager asked to walk a dog—as a 'pet sitter,'" explained PSI President Patti J. Moran. "It is important pet owners understand that pet sitting is a professional career and professional pet sitters offer peace of mind that other pet-care options cannot."
"The good news is that with the growth of the pet-sitting industry, pet owners do not have to rely on untrained or unwilling friends, family members or neighbors when travel or long work hours keep them from their pets," added Moran.
PSI advises pet owners to ask five important questions when interviewing a professional pet sitter:
1. Is the pet sitter insured and bonded?
2. Can the pet sitter provide proof of clear criminal history?
3. Does the pet sitter provide client references?
4. Will the pet sitter use a pet-sitting services agreement or contract?
5. Is the pet sitter a Certified Professional Pet Sitter (CPPS) and/or has he or she participated in pet-care training, such as pet first aid?
"Pet owners must realize that although friends and family may be willing to watch your pets, they often do not have the education or credentials to offer quality, reliable care for your pets," said Moran. "What's more, they are also not insured should any damage to your home or injury to your pets occur while they are caring for them."
PSI recommends pet owners schedule an initial consultation with a potential pet sitter prior to booking services and offers a Pet Sitter Interview checklist on its Web site to guide pet owners in the interview process.
Pet owners in need of pet-sitting services in 2014 can visit PSI's Official Pet Sitter Locator™ at http://www.petsit.com/locate to find pet sitters in their areas and download the Pet Sitter Interview checklist. To learn more about PSI or becoming a professional pet sitter, visit http://www.petsit.com.