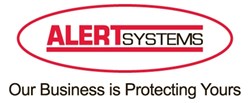 'Business alarms and other commercial security systems could provide a business with adequate preventative measures
(PRWEB UK) 26 December 2013
According to an article published in the Guardian on the 18th of December, 2013, Detectives from Scotland Yard have been investigating the theft of two pieces of art by Damien Hirst estimated to be worth £33,000. The pieces were allegedly stolen from the Exhibitionist Gallery on Blenheim Crescent on the 9th of December between 3am and 3:30am.
One of the paintings is the widely renowned Pyronin Y, a piece that features a set of multicoloured dots. The second work is entitled Oleoylsarcosine, created in 2008 and said to be worth £18,000.
Footage has been released from the Gallery's CCTV security systems by the police in an appeal for more information. The CCTV footage allegedly depicts the suspect forcing entry into the gallery before taking the two paintings and placing them in the back of a dark hatchback type vehicle. Police are appealing for information from anyone that might have seen the events, or a car with paintings in the back that evening.
An AlertSystems correspondent has commented on the theft by saying 'For businesses holding products of high value or those who may hold large sums of money, the installation of sufficient security systems is a vital step in helping them to protect the business. This means that if a theft or a similar crime occurs, police can use footage to help in their enquiries and trace the person responsible.
'Business alarms and other commercial security systems could provide a business with adequate preventative measures; for businesses seeking to protect valuable items such as art, both preventative and retrospective systems can assist the police in identifying an offender.'
AlertSystems manage and maintain over 5000 security installations throughout the UK and are specialists in providing business security solutions. Offering professional service and a complete range of security services such as monitored alarm systems, Automatic Number Plate Recognition and Avigilon CCTV security systems. AlertSystems offers effective and reliable solutions to security problems.