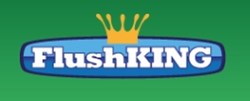 (PRWEB) December 27, 2013
Online seller of repair packs, toilet flush valves and other plumbing supplies, FlushKing, is now offering an extended range of products on its new website. The seller is offering a new range of complete repair packs designed to optimize water usage and to minimize malfunctions and wasting. FlushKing is also an eco-conscious brand that offers tips and guidelines on saving water.
Featuring new products, including flush valves, fill valves, repair packs, spare parts and other plumbing supplies, Flush King is now introducing its complete repair pack at an affordable price. The complete repair pack includes fill valves, flush valves, and a complete repair kit with an adapter, Cistern bolts, overflow bung and a washer. FlushKing currently offers four variations of complete repair packs starting from a price of £14.58.
In its flush valve range, the company offers four products, including a top press dual flush valve, flexi mount dual flush valve, standard syphon valve as well as a complete cistern re-fixing kit. All products under the flush valve section are available for low prices between £4.16 and £11.99, while the re-fixing kit is available for sale at just £2.95, depending on the model. FlushKing is also offering a limited range of fill valves, including the side entry fill valve, adjustable fill valve and standard bottom entry fill valve available in both plastic and brass shanks.
Flush King is an authorized dealer and distributor for Cistern spare parts, including flush valves. Its website is representative of the company's stance on water conservation. It provides a number of informative guidelines on fixing and handling common plumbing and flushing problems. Customers and users can read several interesting facts and statistics related to water wastage and efficiency. The company currently provides services to homes and offices around the United Kingdom with limited shipping and delivery charges and offers a wide range of products, including complete repair packs and spare parts that allow homeowners to optimize water usage and their flush systems.
Find out more about FlushKing and its available products, along with advice on water preservation and control at http://www.flushking.co.uk