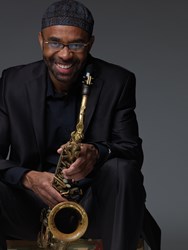 "Kenny has always been just pure inspiration to me every time I hear him play." - Chick Corea
Fort Lauderdale, FL (PRWEB) December 20, 2013
South Florida JAZZ presents the eight-time and current DownBeat Magazine Poll-winning alto saxophonist Kenny Garrett and his Quintet. This is the first Florida engagement for this particular aggregation, although Mr. Garrett has previously played for SFJ at the Hollywood Jazz Festival. Mr. Garrett's newest recording, Pushing The World Away, has just been nominated for a Grammy for Best Jazz Instrumental Album.
Pre-concert musical entertainment will be provided in the courtyard from 7:00 – 7:45 p.m. by an all-star student ensemble derived from Palm Beach and Broward County school bands.
South Florida's premier modern jazz organization is thrilled to present The Kenny Garrett Quintet on Saturday, January 11, 2014, 8:00 p.m. This concert will take place at the Rose and Alfred Miniaci Performing Arts Center on the Nova Southeastern University campus, 3100 Ray Ferrero, Jr Blvd., Davie 33314. Tickets are $40 ($15 for students) and can be purchased from the Broward Center box office by calling 954.462.0222, option #4 in Broward; or online at http://southfloridajazz.org.
For more details, please see below:
Kenny Garrett Quintet
Alto saxophonist, composer and bandleader Kenny Garrett has been at the forefront of the modern mainstream of jazz for more than three decades. While many are quick to note his nearly five-year association with Miles Davis from 1987 -1991, his career didn't begin or end with Miles. Nor was his ascension a function of conservatory training, but rather his extraordinary innate ability honed in the cauldron of the Detroit jazz scene of the 1970s, albeit after the vibrant years of the prior two decades that churned out an enormous number of jazz luminaries.
Kenny Garrett's father was a carpenter who played tenor saxophone as an avocation in the family's hometown, Detroit. Kenny got his first saxophone as an eight-year-old. He had the good fortune to study and perform with Detroit trumpet legend Marcus Belgrave, who helped launch the careers of many other young locals. Kenny was recruited into the Duke Ellington orchestra (under Mercer Ellington's direction) before he had finished high school. He joined the band the summer after graduation and stayed for three and a half years. Meanwhile, he added the soprano and baritone saxophones and flute to his arsenal and was encouraged by members of the Ellington orchestra to compose original music, a superb talent that he was just discovering he possessed.
Garrett also was given the invaluable opportunity to perform and record with the band that launched so many careers, Art Blakey and the Jazz Messengers, as well as with prominent trumpeters Freddie Hubbard and Woody Shaw. Throughout his distinguished career, he has explored and played a variety of music including dates with Sting and hip-hop artist Q-tip. He believes it is part of musical growth to experience myriad styles from home and around the globe.
In addition to leading his own band, Kenny Garrett remains in high demand. He won a Grammy® with Chick Corea's Five Peace Band in 2010 and 2012 Mack Avenue Records release as a leader, Seeds from the Underground, received Grammy® nominations in the Best Jazz Instrumental Album and Best Improvised Jazz Solo categories; and it won the German Phono-Academy's ECHO Award for Saxophonist of the Year. His 2013 release, Pushing The World Away, has been nominated for the Best Jazz Instrumental Album Grammy® this year.
Artistic Personnel
Kenny Garrett – alto and soprano saxes and flute
Vernell Brown – piano
Corcoran Holt – acoustic bass
McClenty Hunter – drums
Rudy Bird - percussion
Funding for this organization is provided in part by the Broward County Board of County Commissioners as recommended by the Broward Cultural Council.