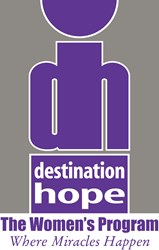 We've found that the key to sobriety is finding alternative ways of celebrating.
Fort Lauderdale, FL (PRWEB) December 30, 2013
Drug rehab for women treatment programs at Destination Hope: The Women's Program are designed to support women year-round, including the difficult period around New Year's Eve. The night of December 31st is associated with overindulgence and substance use, presenting a potential for relapse for women in recovery. Fortunately, there are effective tools and options for having a sober celebration.
"Women in recovery often find New Year's eve a challenging time, because it brings up memories of past events where they may have relied on alcohol to fuel the celebrations," said Ben Brafman, founder and CEO of Destination Hope: The Women's Program, a respected drug rehab for women center in south Florida. "We've found that the key to sobriety is finding alternative ways of celebrating."
New Year's Eve does not have to mean an alcohol-heavy cocktail party that goes into the wee hours of the night. If attending a party, employ a relapse prevention strategy. Keep a non-alcoholic beverage in hand, practice saying 'no' to the offer of alcohol, and remember that it will feel great in the morning to be hangover-free and solid in recovery. Parties, however, are just one option for celebrations.
"We remind the women in our programs that there are so many other ways to ring in the new year," said Brafman, a 20-year veteran of the behavioral health industry. "They can stay at home with friends or family, watching the ball drop on TV with a mug of hot chocolate."
Whether in recovery or not, New Year's Eve can be a stressful event that often fails to live up to expectations. By changing the traditions surrounding the day, clients at drug rehab for women can avoid setting themselves up for disappointment. Infuse the evening with joy and love by making it a celebration of family and health, not alcohol.
"So many people feel the pressure to go 'all out' for New Year's Eve," said Brafman. "The truth is, that's completely unnecessary and they often wind up feeling let down. Having a sober celebration means being fully present for the entire evening, not to mention the following day."
Instead of focusing on New Year's Eve, think about January 1st and goals for the New Year. Start by making new memories with a sober celebration that sets the tone for the year to come.
Destination Hope:
The Women's Program is a full service addiction, drug, alcohol and dual diagnosis drug rehab for women treatment facility in Florida for women suffering from substance abuse and mental health issues. Treatment programs include: drug rehab, alcohol rehab, outpatient rehab, dual diagnosis therapy, family therapy programs, prescription drug rehab aftercare and women's health programs to treat depression, anxiety and eating disorders. Destination Hope: The Women's Program and its partner program, Destination Hope, provide gender specific therapy in an intimate treatment environment. For more information on the center or substance abuse and addiction treatment, please go to http://www.womensdrugrehab.com.