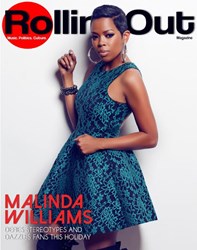 I am blessed with good genes...
Atlanta, GA (PRWEB) December 20, 2013
All Malinda Williams wants for Christmas is eternal happiness, and to continue to make resolutions year-round.
The first-time producer for the UP original movie "Marry Me for Christmas," Williams revels in the opportunity to play a smart businesswoman, Marci Jewel, who isn't in the holiday spirit and ultimately is torn between two men vying for her love.
"I am excited about the movie. It's the first time I am a producer. I am the executive producer along with Swirl Films. We shot this movie in eight days and if you ever been on a movie set, that's a huge undertaking," she says.
Williams' natural beauty and youthful appearance have served her well in the business she has been a part of for more than 30 years.
"I am blessed with good genes and don't have to work out all the time. I have a grandfather who is 103 years old and still is walking on his own. We have good genes and we 'grilled' my grandfather on what he eats [to stay so healthy]," she shares with journalist Mike James.
Visit rollingout.com to read the interview in its entirety. Be sure to check out this and other exclusive photo shoots and video footage with celebrity photographer DeWayne Rogers.
About rolling out Magazine:
Rolling out, the nation's largest free urban weekly, is a digital and print magazine that focuses on the black experience in response to entertainment, politics, fashion, culture, sports and lifestyle points of interest. Headquartered in Atlanta, rolling out is positioned as the voice for the African American experience, using its newspaper as a platform in the marketplace to express urgency for education reform, and to document entrepreneurial endeavors and other relevant issues in the Diaspora. For information on rolling out, please log on to rollingout.com.