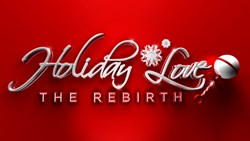 Los Angeles, CA (PRWEB) December 22, 2013
The hilarious one-hour web event centers on an unscrupulous reality show producer who casts pregnant celebrities in hopes of having one of them deliver on Christmas Day. Ultimately, that newborn would play the role of Baby Jesus at a live, mega pay-per-view, all-star nativity themed concert. Despite all the research to pinpoint the expectant mothers' due dates, the women all go into labor at the worst possible times, which puts the entire production in jeopardy. "Holiday Love: The Rebirth" follows this producer through all the trials and tribulations of putting together this event and how, through the power of song (with lots of musical numbers and guest performers!), he begins to embrace the true meaning and miracle of Christmas.
"Holiday Love: The Rebirth" airs on Sunday, December 22nd at 8pm EST / 7pm CT on http://www.HOLIDAYLOVE.TV
Check out a sneak peek: http://vimeo.com/78513550
After the premiere, there will be a "Celebrity Green Room" Google+ Hangout sponsored by Bonnerfide Radio. Viewers can stay tuned after the show to meet the cast and ask questions. Cast members attending will include: Kim Fields, Micah Stampley, Wes Morgan and possibly other surprises…
twitter at @HolidayLoveTV
Facebook at https://www.facebook.com/HolidayLove.TV
"Holiday Love: The Rebirth" Soundtrack available on iTunes:
https://itunes.apple.com/us/album/holiday-love-the-rebirth-ep/id785332274
Featured songs & performances from the show include:
"What Child is This?" - Tamela Mann
"A Mother's Love" - Karen Clark Sheard & Cindy Ratcliff
"Angels We Have Heard on High" - Pentatonix
"You Are Everything" (Christmas Re-Mix) - Tye Tribbett
"O Come Emmanuel" - Jamie Grace & Phil King
"This Christmas" - Lalah Hathaway
"Christmas Medley" - Donnie McClurkin
"Love at Christmas" - Marvin Sapp
"If the Animals Could Sing" – Kim Fields
Interviews with Kim Fields & additional information can be made available upon request.
Thank you.