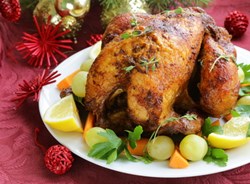 Christmas Day is a time when we get to remind ourselves just what it feels like to be completely, utterly and gut-bustingly full. It's something we call the 'Christmas Feeling'
London, UK (PRWEB UK) 25 December 2013
For most people, Christmas Dinner represents the pinnacle of overindulgence. But according to the weight loss experts at DietAssist, the sensation of feeling full and bloated can help in losing weight.
Christmas is traditionally a time for celebration, family and feasting, and most people get right into the Christmas spirit.
According to nutritionists, the average person consumes around 8,000 calories on Christmas Day alone! That's three times the NHS recommended daily intake of 2,500 calories for men and 2,000 calories for women.
And when Christmas Eve, Boxing Day, New Year and all the family and office parties are included, the Christmas Calorie count could top 50,000, of which 40-50% is from alcohol and soft drinks.
It's no wonder that the average weight gain over the Christmas period is around 6lbs.
But all is not lost – according to DietAssist, the humble Christmas Dinner can be a great tool in the battle to lose weight.
Co-creator, Rob Woodgate explains: "Christmas Day is a time when we get to remind ourselves just what it feels like to be completely, utterly and gut-bustingly full. It's something we call the 'Christmas Feeling'."
"It's that bloated, full, uncomfortable feeling we have all experienced over years and years of Christmas Dinners. The feeling that if you even put one more roast potato in your mouth, you'd explode in a scene reminiscent of a Monty Python film."
"Simply recalling and intensifying that Christmas Feeling until you feel physically uncomfortable and bloated can be a great way help you to stay on the straight and narrow in the New Year."
DietAssist is the result of more than 20 years' experience in helping people lose weight effectively and is designed specifically to address the self-sabotage and demotivation that dieters commonly experience.
The programme provides people with long-term psychological techniques and strategies to lose weight and keep it off.
DietAssist is collaboration between certified hypnotherapists Rob Woodgate and Paul Howard, who are experts in the psychology of the mind and predicting how the brain will respond in different situations.
Together, they designed the 12-module DietAssist programme to teach people how to take control of their thoughts and behaviours to achieve long-term weight loss success. DietAssist is designed to work alongside any weight loss programme or sensible eating plan.
To register for the free weight loss video course, visit http://www.dietassist.co.uk.
About DietAssist