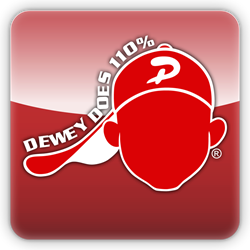 This game will not only encourage children to get out and play, but it also teaches them extremely valuable lessons about hydration, nutrition and overall fitness.
Staten Island, NY (PRWEB) December 23, 2013
A Dewey Does Corporation, an organization that has ownership over the Dewey Does children's book series, games and more, launched its free "I Am Dewey Does" game on Google Play on December 19th.
This exciting new game is the first of five Dewey Does games that will be launched within the next year. All of these games are designed with the goal of promoting health, fitness and sports activity in accordance with the organization's "#IAmDeweyDoes" campaign and the Dewey Does Foundation.
"We're constantly looking for new ways to reach out to kids and help them to have a blast while learning how they can live a healthy lifestyle," said Thomas Kinslow of the Dewey Does Corporation. "Kids are playing more online games than ever before, so we want to jump right in and encourage them to take the lessons they can learn from Dewey and apply them to real life."
The game has five different levels, the first two of which are free with the final three costing $.99 each. The object is for the player to help Dewey Does catch as many pieces of sports and fitness equipment, energy foods, fruits and veggies as possible, so that Dewey can stay cool and fit while playing sports and engaging in fitness activities. Players must maintain a green energy line, otherwise Dewey will slow down (yellow line) or even stop (red line). In a red or yellow line situation, the player must stop and take a timeout for water while seconds run off the clock or while point opportunities are lost, making this a challenging and intense gaming experience for young players.
Players can also receive bonus points by helping Dewey catch the rarely seen 110% symbol only available at higher levels. All scores are tracked, with the highest scores being posted on the Dewey Does Leaderboard. This gives players the ability to check out their competition and strive for improvement.
"This game will not only encourage children to get out and play, but it also teaches them extremely valuable lessons about hydration, nutrition and overall fitness," said Kinslow. "We are very excited to debut it and watch our leaderboard fill up with scores of kids across the globe who are eager to learn more about physical fitness."
If you are interested in working with the Dewey Does team or would like more information about this exciting upcoming game or sponsorship opportunities, contact Kinslow today at thomas(at)deweydoes(dot)com.
Founded in 2000, A Dewey Does Corporation is the organization that controls all Dewey Does properties, including books, campaigns, traveling shows and the charitable Dewey Does Foundation. The first level of "I Am Dewey Does" launched on December 19th, with the second following on or around December 28th. For more information about the "I Am Dewey Does" campaign, use the hashtag #IAmDeweyDoes on Facebook, Twitter and Instagram or visit http://www.deweydoes.com. Be on the lookout for an "I Am Dewey Does" animated series coming in 2014 to TGTV based in California. Jim Russo, president of TGTV says, "Thomas and his team are doing a fantastic job with Dewey Does. We look forward to having the first Dewey Does animation season appear on our network."