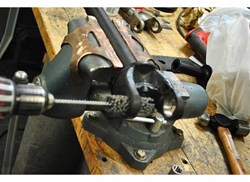 The DIY mechanic used what he called a "cylinder dingle ball hone" to "clean up the U-joint bores" on a Dodge RAM 3500 truck.
Los Angeles, CA (PRWEB) December 24, 2013
Brush Research Manufacturing (BRM), maker of cylinder hones and automotive brushes, is announcing Flex-Hone® tools for surface finishing the bores of universal joints. Flexible hones are used in a range of automotive applications, including engine block honing, brake rotor finishing, cylinder wall deglazing, and cross-hole deburring.
Automotive Repairs and U-Joint Replacement
Universal joints help to transfer power from a car or truck's engine to its wheels. These drivetrain components have four "legs," each of which ends in a needle-bearing cup. Two cups connect to the driveshaft. The other two cups attach with yokes to the transmission or rear differential, depending on the vehicle.
Although routine automotive maintenance can extend component life, universal couplings can wear and fail. Some vehicle owners prefer to have a professional auto technician replace bad U-joints. Other car and truck owners choose to replace universal joints themselves, often as part of a larger DIY project that includes replacing related auto parts such ball joints and hubs.
Bad U-Joints and Good Automotive Tools
Such was the case with a mechanic and member of Turbo Diesel Register (TDR), an on-line automotive forum where users ask questions, get answers, and describe their automotive repairs. For ENafzinger, the owner of a Dodge RAM 3500 truck, the hardest part of a U-joint replacement project was loosening the old universal joints.
Removing the U-joints deformed the yokes, but the truck owner used handheld tools to restore their proper shape. The DIY mechanic then used what he called a "cylinder dingle ball hone" to "clean up the U-joint bores." The cylinder hone that he used, the Flex-Hone® from Brush Research Manufacturing (BRM), is sometimes called a ball hone or dingleberry hone because of its distinctive abrasive globules.
Flexible Honing Tools
Flexible hones are known for more than just their abrasive "balls" or "dingleberries," however. Self-centering, self-aligning to the bore, and self-compensating for wear, BRM's cylinder honing tools mount in handheld electric drills and are easy-to-use. Rigid, elaborate setups aren't required, and the Flex-Hone® tool imparts a plateau finish that optimizes lubrication.
Flex-Hone® tools are always specified in an oversized condition (larger than the bore) and are available for any size or type of cylinder. Standard BRM cylinder hones range in diameter from 4mm to 36", and come in 8 abrasive types and 11 different grit selections. The Flex-Hone® Resource Guide, a free downloadable technical book from Brush Research, provides more information on tool selection.
About Brush Research Manufacturing
Brush Research Manufacturing (BRM), makers of flexible honing tools and automotive brushes, is located in Los Angeles, California. For 55 years, BRM has been solving difficult finishing problems with brushing technology. BRM's Flex-Hone® tool is the standard against which all other automotive surface finishing solutions are compared.
Media Contact:
Heather Jones
Director of Marketing
Brush Research Manufacturing Co. Inc.
4642 Floral Drive
Los Angeles, CA 90022
HJones(at)brushresearch(dot)com
For Immediate Release:
http://www.brushresearch.com/
Ph: (323) 261-2193