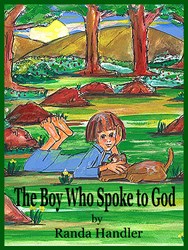 'We are thrilled to bring Randa Handler's books that share messages of acceptance and gratitude to children everywhere," commented Hutch Morton, President and Publisher of Premier Digital Publishing
Los Angeles, CA (PRWEB) December 23, 2013
Premier Digital Publishing's celebrated children's author Randa Handler delves into the world of religious tolerance in her work The Boy Who Spoke to God (eISBN-978-1-62467-237-8, $4.99). Handler, author of the acclaimed Cubby Blue series, has created a story told in fairy tale fashion in which many cultures and religions co-exist in peace and harmony. Within this story, parents can open a conversation with their children about human equality and tolerance of all beliefs.
"People seem to think that my signature is the inclusion of international twists and/or multi-cultural characters," states Handler. "Well, I think some of it is automatic and some of it is purposeful as I really believe that the key to a better world is in the acceptance of each other's differences. Some people have compared my message in this book to Mandela's with my rainbow society! I do take that as a major compliment!"
"We are thrilled to bring Randa Handler's books that share messages of acceptance and gratitude to children everywhere," commented Hutch Morton, President and Publisher of Premier Digital Publishing.
About The Boy Who Spoke to God:
Unable to agree on their ideas about God and religious celebrations, four different ethnic tribes—Greeks, Chinese, Zulus, and Mayans—who live together harmoniously most of the year, combining aspects of each of their cultures to make their kingdom strong and prosperous, suddenly become divisive when religious holidays approach. During such times, they cannot agree on the timing or manner of religious traditions, and they each have their own god who looks and dresses as they do. When Niko, a young Greek boy, has several dreams of God, each tribe interprets the various details of his dreams according to its own view of God, further emphasizing the tribes' differences in beliefs. Subsequently Niko is shunned for having created even more disharmony and for lying to the tribes, or so they think, as no one believes he dreamed of God. To clear up all the confusion and arrive at the truth, Niko begs God to manifest in one final dream. This time God shows him that the tribes' beliefs are actually different expressions of the same god. Niko concludes that God is like colorless and formless iridescent light and the beliefs of all tribes about their gods are correct as these gods are like colors of the rainbow that derive from white light.
For more information on books from Randa Handler, please visit:
http://www.premierdigitalpublishing.com/Titles/authors/randa-handler/
Praise for The Boy Who Spoke to God
The Boy Who Spoke to God teaches that despite differences in religions, beliefs, ceremonies, and traditions among people, God is the God of everyone, and people should not let their differences separate them from others. The story is told in an excellent easy to understand fashion, with delightful colorful drawings, and children will understand this important lesson.—Israel Drazin, author, Rabbi, and Executive Director of the Jim Joseph Foundation
This well-told tale, beautifully illustrated, will appeal to all children and will at least introduce the concept of the interrelatedness of all peoples. Highly recommended. Grady Harp, author of War of Song.
About Randa Handler:
Randa Handler is an international journalist, publicist and publisher. Her interview with actor Rock Hudson (his last) was published worldwide. Her expertise in public relations made many products and personalities household names. Her publishing efforts launched an educational series of children's books that are still being used as 'lesson plans' by elementary school teachers.
In 2003 Handler moved into publishing by successfully launching an educational children's book series. She is currently a children's book author and illustrator. New releases include If I Were King, and two installments in the Cubbie Blue series, Cubbie Blue & His Dog Dot, Cubbie Blue & His Dog Dot, Book 2, What's Up with Mike, and The Thanksgiving Platter.
Website: http://randahandler.com/
Facebook: https://www.facebook.com/RandaHandler
Twitter: https://twitter.com/RandaHandler
About Premier Digital Publishing:
Los Angeles based Premier Digital Publishing is a leading independent digital publisher and innovator in eBooks, enhanced eBooks and interactive content. Led by a team of digital media pioneers, the company ranks among the top suppliers of quality print and eBooks, and is one of the industry's most prominent tablet reader distributors and top-tier retailers.
Website: http://www.premierdigitalpublishing.com
Twitter: http://twitter.com/pdigitalpub
Facebook: https://www.facebook.com/Premier.Digital.Publishing