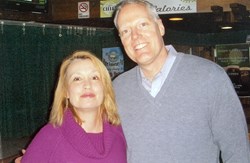 Probably the most important title I'll ever have in my life is also the title that I was the absolute least prepared for when I acquired it. That title is CAREGIVER to a person with Huntington's disease.
Charlotte, NC (PRWEB) December 24, 2013
Better care and treatment are evolving for patients with Huntington's disease according to experts attending an international HD conference in Charlotte.
"Our three-day conference provided a remarkable opportunity for researchers, clinicians, care providers, patients and families to join together to work on this really challenging disease," said Dr. Ira Shoulson, professor of neurology, pharmacology and human science at Georgetown University and leader of the Huntington Study Group.
Some of the world's leading experts on the disease were among over 425 HD researchers, doctors, clinicians, caregivers and families from eight nations and 24 states who attended the 7th Annual Huntington Study Group Clinical Research Symposium and Workshops, sponsored by HSG and Charlotte AHEC.
Dr. Mary Edmondson, president of HD Reach, a North Carolina-based nonprofit, says new treatment for disease symptoms "does not appear to be far away," and that developing future treatments will require closer collaboration among investigators, clinicians, patients and others.
Christopher G. Young, Vice President of HD Reach, spoke about the opportunity to make a difference in caring for patients and families with Huntington's disease. Young shared the gripping story he and his wife Jacque face as a family with Huntington's disease.
Read full text of Mr. Young's remarks with photos
Although it affects only about 30,000 people in the U.S., HD is the focus of pioneering work expected to have enormous impact on more common hereditary diseases, such as Alzheimer's and Parkinson's, because anyone who carries the disease form of the HD gene is certain to get the disease.
"It's a model for genetic disease," said Shoulson, who was part of a research team that in 1993 first identified the HD gene through blood tests on a large family in Venezuela that had HD.
"As we unravel the genetic human genome, more and more of us will understand the risks that we have for, if not Huntington's disease, other diseases," he said. "So I think we are, in a way, pioneering that important effort."
North Carolina has emerged as a leader in providing care for patients of HD, which affects control of movement, thought and behavior, and typically results in death 15 years to 25 years after onset of motor signs of the diseases.
HD Reach has worked to try to change the culture of living with HD. It is working in North Carolina to help educate patients and families about therapies that can help them live with the disease and cope with its psychological impact.
Read full text of Mr. Young's remarks with photos
Contact:
Mary C. Edmondson, MD
President, HD Reach
Email: info(at)hdreach(dot)org
Phone: 919.803.8128
Shari Kinel
Executive Director, Huntington Study Group
Email: shari.kinel(at)hsglimited(dot)org
Phone: 585.319.3591
Robert B Butler | PR
Serving nonprofits, communities, foundations and supporting companies