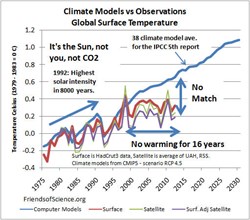 ...claims for climate change loss and damage...as stated in the Warsaw COP-19 discussions, cannot be justified by either scientific or historic evidence.
Calgary, Alberta, Canada (PRWEB) December 31, 2013
Friends of Science are warning the public to differentiate between the folly of run-away development in dangerous coastal zones or flood plains and the often-stated human-caused "climate change." Environment Canada rolled out its annual "Top Ten Weather Stories" with Alberta's southern flood as the number one story.
Retired environmental biologist and consultant Les McDonald, RP Bio is a Friends of Science supporter who explains that the media rarely examine the true causes of the vast scope of these catastrophes.
"The problem is purely geographical and nothing to do with theoretical anthropogenic global warming," says McDonald. "When humans settle in ever increasing numbers in geographically dangerous settings with known severe climate patterns, one can expect disaster."
The number one high-profile example is the flooding in Calgary and High River, Alberta this past summer.
"River flood-plains are on par with low-lying coastal areas as the least safe places to build large scale human habitation," says McDonald. "When these areas are inevitably flooded it, some people falsely claim it is because of man-made global warming!"
Friends of Science state there has been no global warming in 16 years and that climate change is due mostly to natural factors like solar cycles. This "warming stall" since 1998 was noted as early as April 09, 2006 in The Telegraph in an article by Prof. Bob Carter, at the time a paleoclimate researcher and geologist at James Cook University in Queenlsand.
Ignoring long-understood geographical/ecological science is a global phenomenon.
Tacloban in the Philippines, one of the hardest hit cities by Haiyan, was nearly destroyed by a typhoon in November 1912 when half the population of 30,000 was killed.
Yet, no one moved away. When Haiyan hit last month the population was 221,000, up from 136,000 in 1990.
Many islands in the Philippines are little more than thin, narrow outcroppings of coral reefs at the mercy of storms.
The damage caused by Typhoon Haiyan, Tropical Storm Sandy, Hurricane Katrina all occurred in low-lying coastal areas that have seen significant accelerated population growth and development over the past century, despite full knowledge that severe tropical storms have hit these locations in the past. According to History Channel website: "During the past century, hurricanes have flooded New Orleans six times: in 1915, 1940, 1947, 1965, 1969 and 2005."
McDonald notes that New York and New Orleans are excellent examples of the folly of run-away development in dangerous coastal zones prone to occasional severe weather.
"New Orleans is a double whammy mistake being built on a low coastal area prone to hurricanes and on the largest river deltas in North America," explains McDonald. "The storm surges not only cause floods directly but create a hydraulic dam on the Mississippi causing it to flood as well."
He notes that plushy homes in New York's Hamptons are often at dangerously low elevations.
"The cost of damage has risen exponentially since WW II when a home in the Hamptons may have been a small bungalow," says McDonald. "Today it is more likely a mansion with swimming pool and worth a fortune."
"Throughout human history, people have moved due to natural climate change," says Ken Gregory, research director for Friends of Science.
The Star Carr people of north east England 10,500 years ago were faced with rapid natural global warming.
Anthropologist and author Brian Fagan recounts how "people living by the shallow ocean knew that the settlements of their ancestors often lay beneath the surface.." in his book "Beyond the Blue Horizon."
"Consequently," says Gregory, "the notion of claims for climate change 'loss and damage' from industrialized nations to be paid to low-lying countries, as stated in the Warsaw COP-19 discussions, cannot be justified by either scientific or historic evidence."
About
Friends of Science have spent a decade reviewing a broad spectrum of literature on climate change and have concluded the sun is the main driver of climate change, not carbon dioxide (CO2). The core group of the Friends of Science is made up of retired earth and atmospheric scientists.
Contact:
Friends of Science Society
P.O.Box 23167, Connaught P.O.
Calgary, Alberta
Canada T2S 3B1
Toll-free Telephone: 1-888-789-9597
Web: friendsofscience.org
E-mail: contac(at)friendsofscience(dot)org