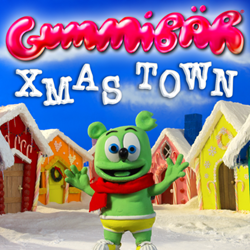 (PRWEB) December 24, 2013
Renowned Animation Director Rohitash Rao, best known for his stop motion commercials for Honda and his recent music video for A Great Big World produced "Xmas Town" - Gummibär's first ever Claymation Video - at ShadowMachine Studios in Los Angeles, CA, the facility behind the Adult Swim series Robot Chicken.
The video features Gummibär singing and dancing in a snow-covered Christmas Town with his sweet and snowy holiday friends, Gingerbread Man and Snowman. Gummibär pulls out all the stops; even playing a candy-cane xylophone to the beat of his catchy new tune.
"Xmas Town" has also been released as a digital music single in conjunction with the video. The single is available on iTunes: https://itunes.apple.com/us/album/xmas-town-single/id787333808.
The video can be viewed on Gummibär's popular YouTube channel: at http://www.youtube.com/gummybearintl.
About Gummibär:
The first Gummibär videos were posted online in 2006 and since then the character has grown to immense popularity around the world. The official Gummibär YouTube channel now has over 1.5 billion documented views and Gummibär videos average 3 million views every day across the network. The character's songs, CDs, and DVDs have been released in over 40 different countries and in over 27 different languages.
About Gummybear International:
Gummybear International is engaged in the creation, development, and branding of animated entertainment properties, as well as musical content based on and produced for such properties. It markets and sells recorded musical and video products in various physical formats, such as compact discs and DVDs, and digital formats, such as downloads and ringtones, through a worldwide network of established distributors and licensees. The company's music publishing segment owns and acquires rights to musical compositions, markets these compositions, and receives royalties or fees for their use. It also is actively developing mobile and computer based games and exploiting merchandising rights for its brands in cooperation with a variety of licensing partners. GBI is working on a number of film and TV projects. The company is headquartered in New Jersey. For more information, visit the Gummybear International website at http://www.gummybearinternational.com/.