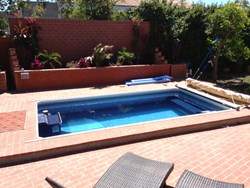 I'll even start my day in the Endless Pool to fire up my muscles.
Los Angeles, CA (PRWEB) December 26, 2013
Founder and owner of Future Fit, Inc., director of the National Council of Certified Personal Trainers, author, cyclist and musician—John Platero is a busy man.
Platero must maximize his training and recovery time, and his backyard Endless Pool allows him to do just that.
The well-respected 55-year old fitness enthusiast competed in 95 races in 2013, and earned a place on the podium in 27 of them, highlighted by capturing the points race in the Master's Pan American Games.
Never one to shy away from pushing himself to the limit, he quickly understood the value of the Endless Pools ability to provide an unparalleled rehabilitation and training tool.
"It's awesome, I love it," said Platero. "It's a safe environment that's allowed me to rehab and do dynamic movement in a non-weight bearing environment."
"Due to the nature of cycling, I've had a lot of major injuries, including five knee surgeries. It's not a matter of if, but when you're going to fall in this sport."
For an athlete who travels around the world, the soothing therapy that water provides is a welcome environment after physically taxing competitions.
While each event inevitably takes a toll on his body, Platero can use water exercise to his advantage, stretching and working his muscles in ways he couldn't on land.
"I try to use the pool almost daily and there are times I'll even start my day in the Endless Pool to fire up my muscles."
While he swims and performs water exercises, the pool acts as a cross-trainer for Platero, as he uses the adjustable swim current to challenge himself in ways he can't on the land.
"Cycling requires an almost constant singular motion," said Platero. "The pool allows me to do so many different exercises that would normally hurt. It's a very flexible tool for me."
Platero proves that dedication to his craft and the ability to consistently exercise and rehabilitate in his Endless Pool, will pay dividends on the racing track.
About Endless Pools:
Endless Pools, established in 1988, has shipped over 20,000 indoor pools and outdoor pools worldwide, for swimming, exercise, therapy and relaxation. With a series of innovative products, their compact, customizable aboveground, partially inground or fully inground pools can be installed for commercial or residential use.
For more information, visit http://www.endlesspools.com or contact Rob Shaeffer at 610-497-8676.