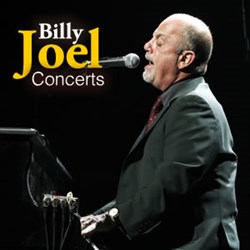 New Year's Eve marks a great time to think about a show with Billy Joel or Phish with even floor seats still available for these sold out shows at Tickets-Cheapest.com online.
Brooklyn, NY (PRWEB) December 28, 2013
When thinking about New Year's Eve in New York City watching the ball drop outside in Times Square surely comes to mind first. For music fans perhaps a Phish concert New Year's Eve, or leading up to it, ranks as their favorite activity. To ring in 2014, music fans in New York City might also select another event to start the year off right. Billy Joel plays New Year's Eve at Barclay's Center in Brooklyn, marking the first of his ten scheduled NYC shows.
Following the Billy Joel Brooklyn show December 31 Billy Joel New York City concerts continue January 27. The residency at Madison Square Garden looks like a series unlike anything seen before. Billy Joel announced several weeks ago he would play a show at Madison Square Garden every month as long as the fans wanted him to perform. Concerts on sale last week for August 7 and September 17 make a total of nine MSG shows announced so far.
As for the songs one may hear at these 2014 Billy Joel concerts, some tunes may not be quite as familiar to fans looking to buy Billy Joel tickets, but few may classify these songs as brand new musical creations. At his impromptu show Billy Joel spoke about playing some songs he rarely if ever performed in concerts before. The tune Blonde Over Blue written for his ex wife Christie Brinkley stood out in the group as he played the song in concert for the first time ever. Other material came from Cold Spring Harbor, the Billy Joel album issued prior to Piano Man. Of course, fans heard Piano Man and many Billy Joel favorites too. Based on the surprise concert on Long Island and recent Billy Joel concerts in England, we prepared a probable Billy Joel concert set list indicating songs fans will likely hear. On top of these there should be more which may or may not vary based on the show.
For the fourth year in a row Phish wraps up it's tour schedule with a concert in Madison Square Garden. The 2013 New Year's Eve performance concludes a run of four sold out shows including December 28, 29, 30 and 31. Phish fans know to expect a unique performance at every concert in terms of both improvisation and audience participation. Originally from Burlington, Vermont, Phish music blends multiple genres such as rock, jazz, blues, folk, funk and bluegrass.
In addition to the Brooklyn Billy Joel concert, Barclay's Center hosts many other major music events such as Jay-Z, Miley Cyrus Brooklyn and a Cher concert. The Nets NBA team serves as the primary Barclay's Center tenant for 2014. In 2015 the New York Islanders make Barclay's Center their home arena as well.
Billy JoelTour2014.com in association with Tickets-Cheapest.com operates in the ticket resale market, only with cheaper prices than other such sites. Check out Tickets-Cheapest.com for all ticket needs when looking for seats to sold out concerts. For the most popular shows they offer a large inventory of seats with costs less than other resellers including concert ticket prices better than Stubhub including premium seats and floor tickets. New Year's Eve marks a great time to think about a show with Billy Joel or Phish.
About Financial Firebird, Billy Joel Tour 2014 and Tickets Cheapest
Tickets-Cheapest.com, the site to buy cheap tickets online, and its sister sites, including the site to find Broadway shows like cheap Motown Broadway tickets, are affiliated with the Financial Firebird Corporation Travel Group. Financial Firebird Corporation, established in 2000 and a proud BBB member, provides unbiased consumer information particularly involving personal unsecured debt or mortgages, software and marketing services. These sites for consumers to buy tickets online operate in the resale market and maintain no relationship with the venues or performers. The resale ticket market allows consumers access to popular events once the box office has sold out or to buy premium seats when the venue no longer offers any inventory. Within the group of these secondary market ticket services, the Financial Firebird owned ticket sites offer lower prices than competitors. Find the site at BillyJoelTour2014.com and Tickets-Cheapest.com.