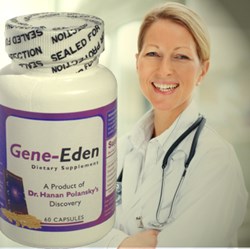 We recommend Gene-Eden-VIR to help the immune system target the latent EBV. This natural antiviral was clinically proven to reduce symptoms associated with an Epstein Barr Virus infection. – Mike Evans, polyDNA
Rochester, NY (PRWEB) December 28, 2013
Infectious Mononucleosis (Mono) can cause serious and frightening hallucinations as part of the "Alice in Wonderland Syndrome" (AIWS). As the authors of a study wrote, "Viral infections that cause encephalopathy (disease of the brain) can be associated with the AIWS (1)." polyDNA recommends Gene-Eden-VIR to help the immune system target the latent Epstein Barr Virus and help reduce symptoms associated with EBV caused AIWS.
Authors of the study described "visual hallucinations in two adolescents and a 9 ½-year-old boy associated with infectious mononucleosis. One teenage girl saw objects 'being more distant than they actually were and images that were out of focus, shrinking, and enlarging. Her physical examination demonstrated an enlarged spleen and lymph nodes. She had a positive monospot test and an increased heterophile agglutination test confirming the clinical diagnosis of mononucleosis. She made a full recovery after 8 months (1)."
"The other adolescent girl noted alterations in sizes and shapes for 2 months. She had a positive heterophile agglutination test, spleen enlargement, and increased monocytes in her blood smear. She also made a full recovery. The boy complained of objects seeming to become alternately larger and then smaller than they actually were. He also had swollen lymph nodes, splenic enlargement, increased lymphocytes in his blood smear, and a positive monospot test (1)."
"Cinbis and Aysun reported that a 7-year-old girl complained (that) her mother's head seemed smaller than her body and appeared to her to be colored green for a few minutes. These hallucinations would disappear and then return. Serum tests confirmed the clinical diagnosis of EBV encephalopathy (1)."
It is obvious that patients with EBV caused AIWS experience "bizarre perceptions of size and shapes (1)," and "illusions of changes in the forms, dimensions, and motions of objects (1)."
"We recommend Gene-Eden-VIR to help the immune system target the latent EBV. This natural antiviral was clinically proven to reduce symptoms associated with an Epstein Barr Virus infection." – Mike Evans, polyDNA
"Epstein-Barr virus, frequently referred to as EBV, is known to cause infectious mononucleosis and is a member of the herpesvirus family, one of the most common human viruses. The virus occurs worldwide, and most people become infected with EBV sometime during their lives." This is according to the CDC in a page last updated on May 16, 2006 (2).
A study published on August 12, 2013 in the peer reviewed, medical journal Pharmacology & Pharmacy, in a special edition on Advances in Antiviral Drugs, showed that Gene-Eden-VIR reduced EBV symptoms. Study authors wrote that, "Individuals infected with the Epstein Barr Virus…reported a safe decrease in their symptoms following treatment with Gene-Eden-VIR (3)." The study authors also wrote that, "We observed a statistically significant decrease in the severity, duration, and frequency of symptoms (3)."
To learn more about Gene-Eden-VIR, and EBV, visit http://gene-eden-kill-virus.com/EBV.php. All orders of Gene-Eden-VIR are completely confidential, and no information is shared or sold to any third party. Privacy is assured.
References:
(1) The alice in wonderland syndrome. Published in 2013.
http://www.ncbi.nlm.nih.gov/pubmed/24290480
(2) Epstein-Barr Virus and Infectious Mononucleosis. Last updated on May 16, 2006.
http://www.cdc.gov/ncidod/diseases/ebv.htm
(3) Gene-Eden-VIR Is Antiviral: Results of a Post Marketing Clinical Study
http://gene-eden-kill-virus.com/PP_Gene-Eden-VIR-is-Antiviral.pdf
polyDNA is a biotechnology company that develops dietary supplements using the unique scientific method developed by Dr. Hanan Polansky, which is based on Computer Intuition.
In addition to his unique scientific method, Dr. Polansky published the highly acclaimed scientific discovery, called Microcompetition with Foreign DNA. The discovery explains how foreign DNA fragments, and specifically, DNA of latent viruses, cause most major diseases.
polyDNA developed Gene-Eden-VIR, an antiviral natural remedy that helps the immune system kill latent viruses.