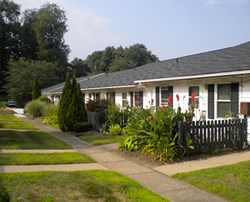 Assisted Living WiFi
Canton, Ohio (PRWEB) December 27, 2013
WiFi Solutions & Technologies Group, Columbus, Ohio, signs deal with Stone Crossing Care Center located in Canton, Ohio to provide Facility-Wide WiFi for their Residents and Staff.
Mr. Scott DePriest, Administrator for Stone Crossing Care Center, a Lamplight Community, informed WiFi Solutions & Technologies Group in early December that their Proposed WiFi Solution was accepted. Mr. DePriest needed a Solution that would help to meet the "New Secure Electronic Records" requirement while providing Wireless Internet Access to Staff, Visitors, Guests and Residents.
The WiFi Solutions & Technologies Group proposed the Solution that meets all of his requirements.
Located in the heart of Market Heights, Stone Crossing Care Center by Lamplight Communities is a continuum of care community offering lifestyle accommodations and healthcare services to meet the evolving needs of our residents. We combine outstanding amenities, home-like surroundings, engaging social activities and supportive services, offering flexible rate plans to meet the changing needs of our residents. Our focus is on promoting optimal independence and the highest level of wellness.
Lamplight Communities is dedicated to providing senior care at affordable pricing. We accept multiple payer sources such as Medicare, Medicaid, Veteran Benefits, private insurance, and Ohio's Assisted Living Medicaid Waiver. We can help you identify possible resources that may be appropriate to your situation.
WiFi Solutions & Technologies Group is a Columbus, Ohio based Systems Integrator that provides Internet/WiFi Solutions to businesses throughout Ohio and the Mid-West.
WiFi Solutions & Technologies Group specializes in Wireless (WiFi/RF) platforms, Information Technology World Class Solutions and Telecommunication Solutions for today's demanding requirements.