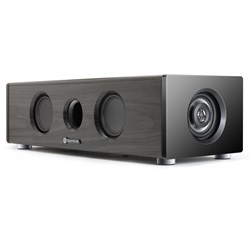 Westlake Village, CA (PRWEB) December 27, 2013
Accessory Power, a Global Electronics and Accessories Manufacturer in Los Angeles with offices in Europe and Asia, has released its first ever Sound Bar System.
Accessory Power is proud to introduce the new BlueSYNC XPL Sound Bar Speaker System to its GOgroove line of speaker accessories. This product is the first effort for the brand in the sound bar arena, but remains true to the GOgroove motto of quality and excellence. With the potential to attract notice in a crowded market, the GOgroove high-powered Bluetooth Sound Bar Audio System works with mobile devices, standalone music players and most home-theaters.
The GOgroove BlueSYNC XPL is the most powerful speaker Accessory Power has ever offered. With a 30-watt RMS design that peaks at 60 watts, the BlueSYNC XPL provides powerful, room-filling sound for music, television or gaming systems. With two sub-woofers in the front, side-firing stereo speakers, and 2 tweeters, this high-powered sound bar provides customers the quality sound expected from GOgroove products. The BlueSYNC XPL comes with an easy access equalizer in the back which includes knobs for treble, bass, and volume. The convenience of Bluetooth gives the user the option of controlling volume from any connected device. The Bluetooth antenna comes with a range extender for up to 30 feet of signal distance.
The BlueSYNC XPL has an elegant style that fits any room while still durable enough to support the weight of a standard flat screen television. The dark wooden finish surrounds the console with black piano accents on each side. In addition to the look, the BlueSYNC XPL has multi-input audio providing a wide range of functions and abilities. The console plays audio from televisions, video players, and 3.5mm audio devices or can even integrate with an existing left and right channel home theater stereo setup to give an enhanced sound experience. The BlueSYNC XPL offers the functionality of in-home Bluetooth sound while providing the quality sound expected from a home theater system.
Like all Accessory Power products, the GOgroove BlueSYNC XPL comes with a three-year manufacturer's warranty that can be registered for at http://www.AccessoryPower.com.
For further information on the new GOgroove BlueSYNC XPL or Accessory Power, visit http://www.accessorypower.com.
Accessory Power is an American-based manufacturing and distribution company, with offices in Los Angeles, Hong Kong and China. Since 1980, Accessory Power has been dedicated to manufacturing quality consumer electronic accessories. An important distinction that divides our company is an unrelenting commitment to quality in each step of a product's life. Every Accessory Power product is backed by an industry-leading three-year warranty.