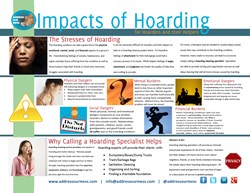 A good goal is to have family and friends over for holidays and events. You may not be able to do so with all of these items in your home.
Mount Laurel, New Jersey (PRWEB) December 30, 2013
The hoarding condition is defined as a person's inability to discard or part with items of little to no genuine value, causing excessive amounts of clutter to impede the livability of his or her home. The negative impacts of the condition can severely affect a person's quality of life, causing many physical, emotional, mental, social, and financial damages. Hoarding cleanup experts Address Our Mess have dedicated their business model to improving the lives of those suffering with this condition. With their latest campaign, a groundbreaking video series highlighting the various aspects of the hoarding condition and recovery methods, Address Our Mess introduces its latest video, "Impacts of Hoarding."
Company co-founder Josh Rafter gives viewers an exclusive look into an expert's view on the severe impacts of the hoarding condition. Josh breaks down each way a hoarder can be affected by the debilitating condition while providing the viewer with important
tips on how to develop methods to recover.
A simple yet important hoarding question Josh poses to viewers is, "When was the last time you had a visitor?" Social impacts of hoarding may be the most crucial, as mending social bonds with family, friends, and others who want to help may be the key to overcoming some of the other obstacles of the condition. Josh explains, "A good goal is to have family and friends over for holidays and events. You may not be able to do so with all of these items in your home."
Routine maintenance to the home itself also suffers when a clutter cleanup problem persists. Neglecting to clean and sanitize a home can also lead to compromising the structural integrity of the property. Amenities that make a home functional and sanitary like plumbing, air conditioning units, and hot water heaters are often affected by the hoarding condition. By compromising these appliances, inhabitants of the home can allow diseases to fester and spread while exposing themselves to environmental hazards due to extreme temperatures.
Josh states, "You may have the best intentions of cleaning your home up. I'm sure you have purchased a lot of boxes, storage totes, and containers. But the thing of it is, there's more stuff than just one person can handle." Address Our Mess hoarding, clutter, and animal hoarding services provide people with professional advice and deep cleaning methods to help facilitate a happier, healthier lifestyle.
About Address Our Mess:
For more than 22 years, Address Our Mess has provided clutter and hoarding cleanup services in locations across the continental United States. With project managers certified to handle any type of deep cleaning situation, Address Our Mess is equipped to deliver exceptional service while providing keen insight to the hoarding recovery process. To learn more about Address Our Mess, visit http://www.addressourmess.com.