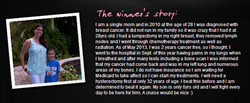 "Nina is incredibly deserving of this cruise," said Elizabeth Becker, writer for Cruise Voyant. "We are all very happy to hear she chose a cruise itinerary and will be sailing out later in 2014."
Fort Lauderdale, FL (PRWEB) December 26, 2013
This past October, thousands of people affected by breast cancer submitted their story through Facebook and CruiseVoyant.com in hopes of being the lucky recipient of a free cruise for two valued at $500.00 from Cruise Voyant. The winning entry came from Nina Brumbaugh, a 32 year old single mom that has been fighting breast cancer for 4 years in order to be there for her 6 year old son.
"Nina is incredibly deserving of this cruise," said Elizabeth Becker, writer for Cruise Voyant. "We are all very happy to hear she chose a cruise itinerary and will be sailing out later in 2014."
Nina chose a cruise to the Bahamas and stated excitement over going on her first cruise. Along with gifting a cruise, Cruise Voyant donated a percentage of proceeds made during the month of October to breast cancer charity, GLAM-A-THON and offered participants who submitted stories to the Cruise Pink promotion $50.00 off on their next cruise of $500.00 or more booked with Cruise Voyant.
"Ms. Brumbaugh's story was moving and I was delighted to assist her in choosing the ideal cruise," said Justin Figueroa, Cruise Voyant cruise specialist.
With cruise specialists available 24/7, Cruise Voyant was able to arrange the winners cruise details when it was most convenient for them. If you are interested in taking a cruise to the Bahamas or would like specialized help in selecting the best cruise for your interests, budget and destination, please call 888-281-8494.
About Cruise Voyant
Cruise Voyant is a Fort Lauderdale based cruise agency that is revolutionizing the cruise booking process. Cruise Voyant solves many of today's most difficult booking issues by allowing visitors to view a historic look at how pricing has changed on a particular ship and sail date. Cruise Voyant also offers interactive cruise itinerary maps, and it provides tens of thousands of photos of ships and destinations worldwide. Cruise Voyant helps consumers easily find their dream vacation by empowering them with online advice and insights that will help them easily book and manage their vacation plans.