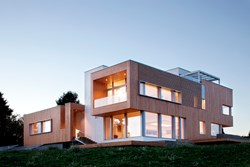 "These highlights illustrate who we are as a company," said Hammer & Hand co-owner Sam Hagerman, "part high performance green builder, part commercial contractor, part traditional remodeler, and 100% committed collaborator."
Seattle, WA (PRWEB) December 30, 2013
Portland/Seattle remodeling contractor and home builder Hammer & Hand announced its 10 highlights of 2013 today. From green building achievements to creative retail build-outs, to the unveiling of a new student design competition, the past year was a standout for the 19-year-old company.
"These highlights illustrate who we are as a company," said Hammer & Hand co-owner Sam Hagerman, "part high performance green builder, part commercial contractor, part traditional remodeler, and 100% committed collaborator."
Hammer & Hand's 10 highlights from 2013 include:
#1: Karuna House – First-Ever Trifecta of Green Building Certifications
Designed by Holst Architecture and built by Hammer & Hand, Karuna House is the first green building in the world to earn Passive House (PHIUS+), Minergie-P-ECO, and LEED for Homes Platinum certifications. The project team's goal was to tackle three of the world's most demanding green building certifications in one project while building a beautiful, comfortable house. The net-zero home's energy load is so low that a small 10 kilowatt solar array will produce enough energy for its entire energy demand, with energy to spare to charge the owner's electric car. Hammer & Hand documented the project extensively via video, photography and blog; see more at the Karuna House webpage.
#2: Hammer & Hand's Seattle Office Moves to the Bullitt Center
Hammer & Hand moved its Seattle office to the Bullitt Center, known as the "greenest commercial building in the world." Hammer & Hand's focus on high performance building fits with the Bullitt Center's programmatic and educational goals. Hammer & Hand staff has enjoyed working in and learning about the pioneering Living Building; see Hammer & Hand's series of blog posts about the building.
#3: Pumpkin Ridge Passive House
This high performance custom home, designed by Portland's Scott | Edwards Architecture, is Earth Advantage Net Zero Ready, Department of Energy Challenge Home (ENERGY STAR, Indoor AirPLUS), Passive House (PHIUS+), and Earth Advantage Platinum certified. Hammer & Hand completed the high performance green home this spring. In this video the homeowners talk about the comfort and efficiency implications of life in a Passive House.
#4: Union Way Tenant Improvements
In 2013 Hammer & Hand built-out three of the retail stores in the new Union Way alleyway/galleria development that connects Portland's Pearl District with its West End. Hammer & Hand's Kevin Guinn managed the three tenant improvements for Danner, WILL Leather Goods, and Marine Layer, each with its own creative and unique look.
#5: Danner Retail Store
The Danner Boots flagship store was the first of Hammer & Hand's Union Way commercial projects. Among the build-out's custom furnishings was a hand-crafted madrone dressing room inspired by a teardrop camping trailer. After completing this store Hammer & Hand built another for the company, this time in Tanasbourne.
#6: Clifton Kitchen & Bath Remodel
This Portland West Hills remodel expanded an historic Portland home for a growing family. Hammer & Hand built a larger covered porch, expanded the bathroom and master closet, and enlarged the existing garage. The kitchen remodel features a new island for cooking and a small nook addition. Hammer & Hand collaborated with architect Celeste Lewis, landscape architect Steve Shapiro, and interior designers Jennifer Leonard and Liz Murray to complete the project.
#7: Seward Park Master Suite Remodel
Working closely with both the architect, Gustave Carlson of Gustave Carlson Design, and the client, Jane Bremner, Hammer & Hand's Seward Park master suite remodel updated a 1950's home to give it a more modern and functional design. This video with Carlson and Bremner explains the process of collaboration with Hammer & Hand.
#8: Custom Millwork: Doors, Windows, and Tables
2013 was a busy year for Hammer & Hand's woodshop. Shop manager Dan Palmer and woodworker Josh Tinker built many custom pieces for various projects, including historic window replicas, high performance Passive House doors, furniture for the likes of Electronic Arts, and more.
#9: 1905 North Tabor Craftsman Transformed into a Modern Farmhouse
This remodel of a 1905 North Tabor home designed by Kevin Fischer and Charlotte Cooney of Alice Design/Domestic Arts mixed old with new. New soapstone counters and pine-paneled cabinets combine with salvaged cast iron radiators and vintage fixtures and appliances for a fresh, modern look.
#10: Hammer & Hand Launched the perFORM 2014 Design Competition
In 2013 Hammer & Hand announced the launch of its 2014 perFORM design competition. http://hammerandhand.com/perFORM-design-competition The contest calls for architectural students and interns to design a single-family house for a family of four that is both high performance and high design. A panel of judges, including heavy-hitters from the NW architectural community, will review the submissions this spring and announce the winners on Earth Day, April 22. The deadline for submission is March 24th.
ABOUT HAMMER & HAND
Hammer & Hand is a construction company dedicated to inciting evolution in building through service, science and craft. The firm collaborates with clients and architects to build the best of the Northwest, from new custom homes, to residential remodels, to commercial renovations.
Hammer & Hand Portland
1020 Southeast Harrison Street
Portland, OR 97214
(503) 232-2447
Hammer & Hand Seattle (at The Bullitt Center)
1501 E Madison St #250
Seattle, WA 98122
(206) 397-0558