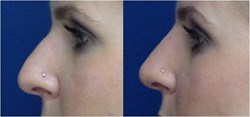 It takes an artistic eye, intuition almost, to see the final result though the problem the patient has
Boston, MA (PRWEB) December 27, 2013
Rhinoplasty is considered one of the most difficult procedures in Plastic and Reconstructive surgery. Technically and anatomically challenging, it also has high aesthetic demands from the Surgeon. New nose not only has to fit the face, be symmetrical and proportional, it has to be in synch with personality. So, when it doesn't work out after hours-long, painful, expensive procedure patients are often dealing with a lot of psychological issues.
At Visage Sculpture, cosmetic clinic dedicated to non-surgical shaping of the face, patients like that are seen every week. Asymmetry is the most common of all post-surgical issues and relatively easily corrected. Over-resection of tip and dorsum is another common side effect–it results in "surgical" appearance of the nose, Michael Jackson-esque disappearing small noses. One of the most challenging issues is disintegration of identity when ethnic nose was changed so drastically that the person looking in the mirror feels like someone else. Thankfully, it's more rare issue, but just as easily helped with non-surgical procedure offered by Visage Sculpture.
Non-surgical rhinoplasty (nose job) quickly became signature method of Masha Banar, Board Certified Physician Associate and Owner of Visage Sculpture. "It takes an artistic eye, intuition almost, to see the final result though the problem the patient has," she says "though there's the whole science of beauty and proportions of the face." Banar is able to lift the tip of the nose, thin the dorsum, conceal bumps, hooks, and divots of the nose to make it look more attractive and in tune with the rest of the face. She has a big following of patients who want to look more attractive but don't have time to undergo and recover after surgical rhinoplasty. Now there's another category of patients she is able to help–those who are trying to get their original nose back to look and feel more like themselves again.
Complimentary consultation can be scheduled by calling at (617)795-0201 or via e-mail. Office is located at 31 Channing Street, Newton Corner, MA 02458.
About Visage Sculpture
Visage Sculpture is premier Cosmetic Center dedicated to helping people look and feel more attractive, refreshed, and youthful in the most natural gentle way. Founded by Masha Banar, Board Certified Physician Associate, with more than a decade of experience in Plastic and Reconstructive Surgery, it has been featured on ABC News for its unique alternatives to surgical procedures (non-surgical rhinoplasty and TMJ treatment).
About Masha Banar, PA-C
Masha is a National Educator for Sculptra Aesthetic and teaches facial anatomy and injection techniques to Physicians and Nurses. She has treated thousands of patients and has one of the busiest practice on the East Coast. Masha worked with Sculptra long before it was FDA approved for cosmetic indication, and treated hundreds of cases of HIV lipoatrophy with the product.
Masha's innovation, non-surgical rhinoplasty (or nose job), has been featured on the local news channel and remains the most popular procedure offered in the clinic. Her extensive experience combined with artistic background and intuitive appreciation of proportions of the face brings ease to all procedures offered.