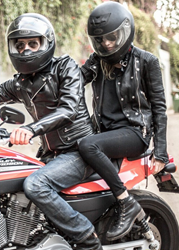 Los Angeles, CA (PRWEB) December 28, 2013
BikerKiss.com, the premium dating site for motorcycle enthusiasts, recently ran a data check on the most frequently searched for keywords that its members use in order to find other members. The site owners and administrators wanted to find what the members were looking for when they searched for a match or friends.The results were interesting.
The top five most frequently searched words on the popular BikerKiss.com website were released to the public at this time. It was revealed that the search term that came up the most was "Harley." A total of 29% of the members searched for "Harley." The search term that came in second was "motorcycle," at 20%. Members searched for "looking for serious relationship" third at 17%. The fourth most searched for term was "non-smokers." A full 12% of the members searched for "non-smokers." The fifth most searched for term was "Christian," at a total of 11% of members looking for a match or friend that was Christian.
The results of the keyword check on the BikerKiss.com dating website show that most of the members want their match or friend to ride or prefer a Harley-Davidson motorcycle. The rest of the members just want someone who enjoys riding a motorcycle and living the biker lifestyle. Enough members, a full 17%, are very interested in finding a serious relationship, as indicated in their search for one at the site. They don't want just a casual date or friendship. They are looking to settle down. Finding a mate or friend that doesn't smoke seems to be important to quite a few members also, which follows the trend of more people quitting smoking as it becomes less socially acceptable as time goes on. People who don't know bikers well may be surprised to learn that a full 11% are looking for a Christian mate. Contrary to popular belief, bikers are not all lawless criminals. Quite a few of them are Christians who attend church regularly. In fact, many states have at least one biker church in which the attendees are mostly bikers.
About BikerKiss.com
BikerKiss.com is the largest and most effective dating site for single bikers to find their match or friends. Members on the site come from all over the world because of the same interest. If you are looking for others to ride on Ducati, Harley, Triumph or BMW, BikerKiss is the right place.