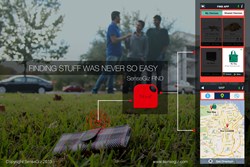 The FIND by SenseGiz can put an end to people misplacing or losing their belongings and phones. It has has many advantages over competitors like a replaceable battery, waterproof case, and can protect items as well as your phone in the reverse direction.
San Francisco, California (PRWEB) December 29, 2013
The FIND is a track & find tag for commonly misplaced items like keys, wallets, mobile phones, bags, pets, etc. Objects can be tagged with FIND by hooking the device to them using a keyhole, or sticking it to their surface. SenseGiz FIND has different modes like Active Tracking, Manual Search, and Phone Protection, that can be activated depending on the nature of the task being carried out.
If an object is misplaced, its location can be traced using the SenseGiz FIND app, currently available for iOS and Android 4.3 and above devices. SenseGiz FIND uses the latest Bluetooth Low Energy technology to communicate with the mobile app within an approximate range of 160 feet – line of sight.
Additional features of the FIND include its waterproof nature, a single-coin cell that can last up to six months. Moreover, FIND tagged items can be shared with family/friends. It has a strong sound alarm for objects that are within reach but out of sight. The phone protect feature is helpful to avoid loss/misplacement of phones, as the FIND tag which can be in a bag/pocket/wallet close to the user sends out an alarm if the phone goes out of range!
Another benefit of the FIND by SenseGiz is its community-based tracking. Through this, the entire SenseGiz FIND community of users is updated anonymously when a tagged device is lost. When any SenseGiz FIND user passes by the lost device, the device location gets securely passed on to the owner of the lost device without others knowing about it.
The FIND by SenseGiz can be pre-ordered at http://www.sensegiz.com/find. The product starts shipping in February 2014 and worldwide shipping is supported.
About SenseGiz Inc.
Started by Abhishek Latthe & Apurva Shetty with a vision to establish SenseGiz Inc. as a leading brand in consumer electronics with a focus on innovation. Today SenseGiz Inc. consists of 10 dedicated professionals working in different areas of the company. SenseGiz has its R&D hub in India.
SenseGiz Inc. is exhibiting at Booth #74006 (Eureka Park), Venetian level 1 at CES 2014, Las Vegas!
Visit us at: http://www.sensegiz.com/find.