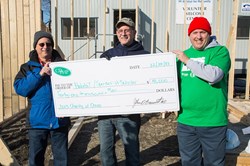 Albany, NY (PRWEB) December 31, 2013
CDPHP® employees wrapped up an incredible year of fundraising for the 2013 Charity of Choice campaign, bringing in $41,000 for Habitat for Humanity Capital District and Capital Region Sponsor-A-Scholar. The two charities have partnered to provide hard-working, lower-income families with a chance to own a home and to prepare their children for high school graduation and higher education.
During the yearlong initiative, employees took part in walks, flower and greenery sales, departmental contests, bowling and comedy nights – even an internal silent auction – all with the goal of raising money and awareness for the two organizations.
"It's a true grassroots effort, with hundreds of CDPHP employees pitching in as event coordinators, volunteers, and participants," said Dr. John D. Bennett, president and CEO, CDPHP. "I couldn't be more proud of their efforts."
In addition to raising funds, employees volunteered at Habitat's Sheridan Hollow build site in Albany. The major redevelopment project includes the "CDPHP House," which, when completed will be owned by Rushel Skein, a single mom of three who is studying to be a registered nurse. Skein's daughter is currently participating in the Sponsor-A-Scholar program at Albany High School.
"Habitat and Sponsor-A-Scholar's shared mission of providing affordable, safe homes and educational opportunities to local families aligns with CDPHP's goal of building stronger, healthier communities," Bennett added. "They have been fantastic to work with this year, and we look forward to continuing a long and successful relationship with both organizations."
"It has been a pleasure working with the employees at CDPHP. The Capital Region Sponsor-A-Scholar/Habitat for Humanity venture is a significant undertaking with a remarkable future," said Bill Corbett, president, Capital Region Sponsor-A-Scholar. "It takes a company like CDPHP, with excellent foresight, to get behind this cooperative and give it energy. For that we are all appreciative!"
"Because of CDPHP's generosity, a hardworking, lower-income family will move into a home of their own in Sheridan Hollow, and their children, most for the first time, will have a room of their own and a quiet place to do their homework and get a good night's sleep," said Mike Jacobson, executive director, Habitat for Humanity Capital District. "We know that Habitat families are healthier and happier in their new homes. We applaud CDPHP for connecting the dots between good housing and health. It's also about leadership – Dr. Bennett has made an outstanding commitment to the company's core values and to the greater community. Habitat is grateful for the opportunity to partner with CDPHP and its dedicated employees."
About CDPHP®
Established in 1984, CDPHP is a physician-founded, member-focused and community-based not-for-profit health plan that offers high-quality affordable health insurance plans to members in 24 counties throughout New York. CDPHP is also on Facebook, Twitter, LinkedIn and Pinterest.
About Habitat for Humanity Capital District
Habitat for Humanity Capital District uses volunteer labor and donations of money and materials to build decent, affordable quality homes for hardworking, lower-income families in need. Established in 1988, HfHCD is an affiliate of Habitat for Humanity International serving Albany, Rensselaer and Southern Saratoga counties. To date, HfHCD has built 85 homes in the Capital Region. For more information, visit http://www.HabitatCD.org.
About Capital Region Sponsor-A-Scholar, Inc.
Capital Region Sponsor-A-Scholar helps disadvantaged students in Albany, Troy and Schenectady, graduate from high school and go onto the successful completion of a college degree. For more information, visit http://www.crsas.org.