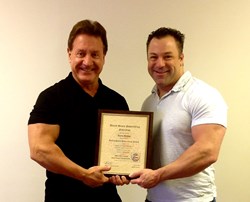 It means so much to me that Dave took the time to see that I received the award this many years later. I guess that's what good people do
Manchester, New Hampshire (PRWEB) December 27, 2013
Back in February of 2004 the United States Powerlifting Federation (USPF) sanctioned the American / Canadian Bench Press Championships in Manchester, New Hampshire. During the competition Rocco Boulay, Integrity Health CEO and a native of NH set 3 consecutive records breaking the previous record of 440.7 lbs. With successful attempts of 452lbs, 479lbs and a final lift of 501.5lbs Boulay accomplished this at age 45 and a body weight of 192lbs.
In the process of transferring the data back to the USPF Rocco's lifts the results were never recorded and subsequently Rocco never received the certificate. Dave Follansbee, meet director, recently contacted the USPF to see why Rocco was never given recognition for the lift. The USPF's secretary Sheri Hartmann was very apologetic and stated that the federation had made some staff changes and that the results related to Rocco's record were misplaced.
Sheri immediately clarified the bench press record and sent out the United States Powerlifting Record certificate to Mr. Follansbee. Follansbee who operates a nutrition store surprised Boulay with the certificate on Christmas. Follansbee said; "I felt bad that he broke the American record by over 60 pounds and was never given the recognition."
Boulay laughed and said; "I never really gave it much thought but now I'm glad that I have the certificate that states that I did it. It means so much that Dave took the time to see that I received the award this many years later. It was a nice Christmas gift. I guess that's what good people do."