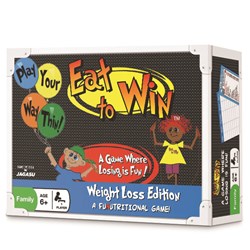 The new Eat to Win Explosion© App is scheduled to be released in January 2014.
Highland, MI (PRWEB) December 30, 2013
Eat to Win LLC, makers of FunNutritional games and products, today announced the planned release of their first weight-loss app designed for adults. The first release of Eat to Win Explosion© is designed for iPhones© and iPads©.
Eat to Win Explosion© will differ from other weight-loss apps currently on the market. After downloading the app for 99¢, the user then will have the opportunity to design their own Avatar. The Avatar represents the approximate weight of the user. There are other characters in the game, including a Rival who taunts the user each time he or she weighs in and throughout the game. Friends appear to encourage and support the user as he or she attempts to lose weight. The user also chooses a coach for two-minute workouts, and has access to recipes and nutrition ideas. As the user loses weight, the Rival actually gains weight until the Rival eventually explodes at the end of each game level. Hence the name Eat to Win Explosion©.
Dr. Gary Gabel, Co-Founder of Eat to Win, says, "Our Eat to Win games are designed to promote exercise and nutrition among children, with a long-term goal of fighting childhood obesity. We feel the same is needed for adults, and we wanted to create a fun way for adults to lose weight."
Jammi (pronounced Jamie) Roscoe, Chief Executive Director of Fun for Eat to Win, says, "I think that our Eat to Win Explosion©, because it is designed to be fun, has the potential to have a significant impact on adult obesity. We are currently in the approval process with Apple Inc. and are gearing for a release in early January."
For more information on Eat to Win games, please visit http://www.eattowingame.com.
About Eat to Win:
Eat to Win was created by a concerned mom whose own child struggled with being overweight. Child obesity in America has become a major issue. An unhealthy lifestyle is a common problem among children and adults. Eat to Win was created to help encourage nutrition and exercise through fun and active games. Please share your stories with us on Facebook and Like Us to receive a discount! Our games are in agreement with ChooseMyPlate.gov.