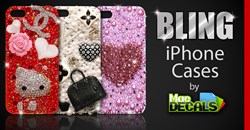 Fort Lauderdale, FL (PRWEB) December 31, 2013
MacDecals.com knows that people love to show off their style with dazzling accessories. This year they are introducing their newest custom bling cell phone cases. With people getting bored of the same cookie-cutter cases Macdecals.com lets phone owners create, design and purchase personalized cell phone covers.
Bling iPhone cases are becoming a huge fashion trend amongst phone owners. Protective iPhone cases by MacDecals.com are made to match your particular style and personality. The advantage of personalized cases is that each case is unique and the owner won't come across anyone with the same case.
Made with Swarovski crystals and pop culture elements. MacDecals.com designers use unique materials, artwork and designs to create the iPhone cases. Customers can choose their own design and personalize their cell phone cases with dazzling crystals and accessories.
Personalized iPhone cases are perfect for Birthday gifts, Valentines, Anniversaries or any other special occasion. The new product line includes cases for all iPhone 4/4s and all 5/5s/5c models. Not only will your phone look great, the bling cases can also reduce the direct impact on the phone from drops and bumps.
Bling iPhone cases are hand made and limited in all models, so get them while they are still available. Custom cases can take 2 weeks from order date to delivery date and start at $50. If you want a custom design just email them at: support(at)macdecals(dot)com.
About MacDecals.com
Founded in 2011, MacDecals.com is the online store for custom MacBook Decals, Stickers and Skins. MacDecals.com specializes in designing and printing the highest quality vinyl decals and sticker graphics for electronic devices: MacBook, iPhone, iMac, iPad, laptops, car windows and more.
A made in the USA Business, MacDecals.com products are shipped nationally and extend across the globe. In addition to their constant growing selection of decal designs, stickers and skins they have a team standing by to make custom designs requested by customers.