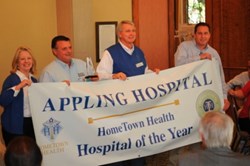 These individuals and facilities represent some of the best people and places in Georgia healthcare.
Cumming, GA (PRWEB) December 30, 2013
HomeTown Health, LLC, an association of 70 rural hospitals in the Southeast, hosted its 14th Annual Fall Conference, "Walking the Tight Rope of Health Care Reform" at Callaway Gardens on November 13-15th, 2013. As part of the conference, HomeTown Health recognizes key leaders for each year from throughout the state.
Andy Smith, CFO of Effingham Health System, Springfield, Georgia, was the recipient of the 2013 CFO of the Year award. This award is presented by HomeTown Health to Chief Financial Officers who exhibit extraordinary talents and skills in positively influencing the delivery of health care in Georgia. Andy was selected for outstanding leadership for the development and sharing of best practices in financial processes and in the business office and for his commitment to excellence, to employee education, business partner endorsement and revenue cycle improvement.
Beth O'Neill, Director of Nursing at Morgan Memorial Hospital, Madison, Georgia, was selected as the recipient of the Nurse Executive of the Year for providing exceptional clinical and executive leadership by adopting 'Best Practices' for rural hospital improvement and making a commitment to staff education and leadership development while emphasizing technological advances and superior patient care. Her recent accomplishments include implementing a hospitalist program, passing the triennial Joint Commission accreditation survey, facility renovation and expansion of five additional beds, implementing a certified HCAPS vendor, implementing major staff changes for increased accountability and performance, and preparation for Stage 2 EHR attestation.
Deana Floyd, PFS Director at Taylor Regional Hospital, Hawkinsville, Georgia, was selected as the recipient of the Nurse Executive of the Year. Deana was selected in recognition of her dedication to providing exceptional and outstanding leadership in sharing best practices in the business office and for her commitment to excellence, to employee education, business partner endorsement and revenue cycle improvement. Kathy Whitmire, Managing Director for HomeTown Health, says, "Deana has invested herself fully into ensuring that her staff is well-educated and performing best practices on a daily basis. She has shown consistent and strong leadership of her staff and is a respected member of her Hospital team."
Lewis Kelley, CEO of Chatuge Regional Hospital and COO of Union General Hospital in Bremen, Georgia, was chosen as the 2013 HomeTown Health Hospital Leader of the Year. "At a time when health care is facing drastic changes and revolutionary revisions to the delivery of health care, Lewis has exhibited exemplary leadership skills and on that basis of performance and achievement. This award is presented by HomeTown Health to individuals who exhibit extraordinary talents and skills in positively influencing the delivery of health care in Georgia. The healthcare industry needs capable leaders more than ever and Lewis is one of those very gifted people, whose efforts truly constitute a contribution to the betterment of mankind where few people have the opportunity to make that kind of contribution.
Milo Varnadeo, CIO at Warm Springs Medical Center in Warm Springs, Georgia, was recognized as the 2013 Chief Information Officer of the Year. This year, Milo has completed education through HomeTown Health University and GA-HITEC's Online Training Center in courses created from curriculum out of the Office of National Coordinator for Health IT (ONC) Workforce Development program. He is prepared to take the Certified Health Information Technology Professional – Technical Software Support exam to become certified in this role. Combating the many barriers and challenges in the health IT landscape for small rural providers, this year, Milo has worked with the team at Warm Springs to select and implement a new electronic health record system.
Dale Gibson, Medicare Consultant, was honored with the achievement of 2013 Business Partner of the Year. Each year, members of HomeTown Health vote to honor one of the group's 55+ business partners with this award. Based on the annual member hospital survey, Dale was the leading vote recipient in both business partner of the year nominations as well as the business partner that most exceeded member hospital expectations. In many of these facilities, Dale not only reviews and edits Medicare claims but serves as the primary Medicare biller. Over the past year, Dale has recovered over thousands of dollars for HomeTown Health member hospitals. "Dale was chosen for his support and dedication to HomeTown Health hospitals, for exceptional customer service and commitment to excellence and for his tireless efforts in helping rural hospitals survive," said HomeTown CEO Jimmy Lewis.
For the final award, Appling Hospital as the "Hospital of the Year" from among 70 Georgia & Florida rural hospital members. Appling Hospital received this prestigious award for demonstrating exceptional leadership by adopting "Best Practices" that contributed to the overall success of the hospital. The criteria consist of having an ongoing strategic plan, involvement with legislators in governmental affairs, being highly regarded by business providers and hospital peers, a strong commitment to staff education, and expressing decision making capabilities that promotes the highest quality health care with the greatest access to the citizens of Appling County and surrounding counties, while maintaining a financially viable health care institution. "Appling Hospital has achieved notable success in a very difficult and volatile healthcare environment and is recognized and commended for achievement far above the normal rural hospital system," stated Jimmy Lewis, the CEO of HomeTown Health.
Photos of all award recipients can be found at: https://www.facebook.com/HomeTownHealthOnline?ref=hl.
About HomeTown Health
HomeTown Health, LLC is an organization of more than 70 rural and small hospitals, located throughout the southeast, which collectively pursues ways to help our hospitals survive in this environment of tremendous budget cuts from the state and federal level. The mission of HomeTown Health is to ensure that rural healthcare is preserved at the local community level wherever possible and that a continuum of care is available to the rural populations. For more information, visit http://www.hometownhealthonline.com.