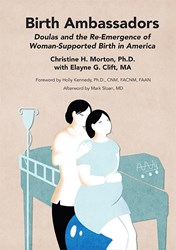 Doulas are the Birth Ambassadors for the midwifery model of care in the U.S.
(PRWEB) December 30, 2013
More women are hiring labor attendants, known as doulas, to be with them during labor and provide continuous labor support, which represents the midwifery model of care. The midwifery model sees birth as a normal, not pathological event, and the rates of interventions, such as epidurals and cesarean sections, tend to be lower. Midwifery care is not available to the majority of American women. But hiring a doula can provide many of the same advantages. According to Christine Morton and Elayne Clift, authors of the forthcoming book, Birth Ambassadors, published by Praeclarus Press, doulas are the ambassadors of the midwifery model of care in the U.S.
Doulas are women who accompany women throughout their labor, and provide individual attention, information, and support to their clients. But this role does not come without dilemmas, as Christine Morton and Elayne Clift describe. Doulas often become doulas because they want to support women in childbirth. But to continue, they need to find ways to navigate the challenges inherent in their role, and find ways to deliver their services in the highly medicalized settings in U.S. hospitals.
Birth Ambassadors summarizes results of the first scholarly study of the role of doulas and the dilemmas they face. It is a fascinating and readable volume destined to become a classic in women's health.
Christine H. Morton, PhD is a research sociologist whose research has focused on women's reproductive experiences and maternity care roles. Since 2008, she has been at Stanford University's California Maternal Quality Care Collaborative, where she conducts research on maternal mortality and morbidity.
Elayne G. Clift, MA is a writer, journalist, and Humanities adjunct professor. She has worked internationally as a health communications and gender specialist, and is an educator/advocate on maternal and child health issues. A volunteer doula and Vermont Humanities Council Scholar, she has edited anthologies and published fiction and poetry collections, a novel, and a memoir.
Praeclarus Press is a small press dedicated to women's health that was founded by health psychologist, Kathleen Kendall-Tackett, Ph.D. It is based in Amarillo, Texas. Praeclarus Press features books, e-books, webinars, and other resources for parents and professionals on all aspects of women's health.