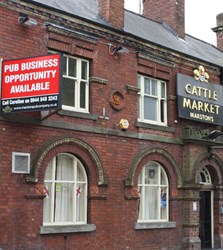 big brands or those pubs with good marketing strategies take the lions share of local custom without having much more to offer than the struggling independent, pubs can be more success on a tight marketing budget
(PRWEB) December 31, 2013
Pub Marketing services provided by Think Cloud Studio have been extended to include Fireside Pubs. Independent pubs will be provided an opportunity to market their pubs for free.
Think Cloud Studio the digital design marketing agency in Warwickshire has been providing marketing services to the pub trade since its formation in 2012. Having taken over the daily running of Pub Rooms, Pub Inn Guide and now Fireside Pubs the latest offering is going to boost marketing options for independent pub operators. With more and more pubs now offering B&B accommodation, function rooms and focusing on food rather than real ales the challenge for pub operators isn't about getting customers to find a pub but rather being found for what it has to offer.
Think Cloud Studio's marketing director Andrew Maynes has recently made claims that "the average independent pub has a far wider and appealing offering to locals compared to managed branded pubs but fails to draw in the customers due to a lack of internet marketing. The big brands or those pubs with good marketing strategies take the lions share of local custom without having much more to offer than the struggling independent, pubs can be more success on a tight marketing budget." He goes on the state that "the customer has changed significantly over the last twenty years. Combined with pubs reinventing themselves after a tough recession it's not about the fittest surviving it's about who has the strongest marketing.
The fireside pubs service will be free for pubs already registered which currently stands at just over 7000 pubs. Think Cloud Studio offer a low cost, monthly marketing manager service which covers the basic needs for local pubs. This is a service that goes far beyond being listed on a pub directory. "A key indicator for failure is a pub owners attitude towards the internet", states Maynes, internet marketing is no longer about having a website and getting as much traffic as is possible nor is it paying for ads that are made to sound good!
For details on this service pub owners and pub managers should contact Andrew Maynes on 0845 388 1071 for more details.