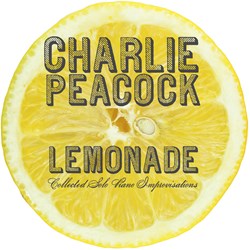 "A mainstay of the Nashville music scene, Charlie Peacock is one of the most prolific cultural influencers to come out of Nashville." - Brite Revolution
Nashville, Tennessee (PRWEB) December 31, 2013
LEMONADE - pianist, composer, record producer and Grammy Award Winner Charlie Peacock's collection of twelve solo piano improvisations is an unexpected, yet winsome next musical step after his much-admired 2012 Folk-Americana release, No Man's Land. Paste Magazine's Holly Gleason proclaimed No Man's Land "a cocktail of Dust Bowl feels, Cajun beats and shuffles, raw banjos and fiddles, steel guitars that pool, and spacious arrangements. This is music of red dirt and high humidity, different worlds that share the same sort of soul."
It's no stretch that the producer behind the music described above, and that of Folk/Americana darlings The Civil Wars and Holly Williams, would share the same sort of soul found in solo piano improvisation. For Peacock, it's all one soulful musical world. The producer/pianist did in fact produce three of Entertainment Weekly's Ten Best Country Albums of 2013. However, he's also the same musician that has recorded and performed with such top tier jazz improvisers as Ravi Coltrane, James Genus, Bela Fleck, Marc Ribot, Jeff Coffin, Joey Baron and Kurt Rosenwinkel. Perhaps all of this is why Electronic Musician wrote: "Charlie Peacock's life is like a game of musical chairs: he is constantly changing seats and trading places."
"I was raised by a California-born, improvising trumpet playing father whose grandfather was a Louisiana fiddler. Maybe that explains a little of my ability to move fluidly between several varieties of American music, whether it's rooted in Hank Williams or Miles Davis."
LEMONADE is Peacock's third recording in the jazz (beyond jazz) genre. His first, Love Press Ex-Curio (2005) was followed by Arc of the Circle (2008), a duet recording with saxophonist Jeff Coffin. Each recording reached Top 5 on the CMJ Jazz Chart and both provide plenty of clues to Peacock's unique piano approach, now fully revealed on LEMONADE.
As The Nashville Scene put it, Charlie is a "Producer - renaissance man" and proudly makes Nashville his home. Or does he? One journalist, after hearing a Charlie Peacock piano solo from a previous recording doubted this in print: "Are we sure Charlie lives in Nashville?" Not only does he live in Nashville, he remains as Keyboard magazine says, "one of the most respected musicians in Nashville."
"There's a reason Nashville is called Music City. It's about the music first here, and improvisation, whether it's jazz, bluegrass, or rock related, is absolutely central to the music created in our city – a city full of world-class improvisers. My solo piano record and playing is hardly an anomaly. It's simply my version of what friends Jerry Douglas, Vince Gill, and Andy Leftwich do in their own sphere of influence. I had my pivotal experience with Jarrett when I was seventeen. I'm hoping my record will spark imaginations and remind people that this is what musicians do – the music is inside us, and when we improvise, we are composing on the spot, real-time. I'm just doing my small part to tell that story, keep it alive. And if people dig what I do, I hope they will check out some serious mastery in pianists like Vijay Ayer, Uri Caine, and Brad Mehldau.
Short Bio: Charlie Peacock is a Grammy Award-winning, multi-format performer, composer, and record producer. Peacock's current production credits include AAA and Americana successes such as The Lone Bellow, Holly Williams, Ben Rector, Brett Dennen and "Misery Chain" for Soundgarden frontman Chris Cornell featuring Joy Williams, from the soundtrack to the film, 12 Years A Slave.
Charlie Peacock - LEMONADE
Twenty Ten Music - Release: January 7th, 2014
For all requests: twentytenmusic(at)me(dot)com or samashworth(at)me(dot)com
###