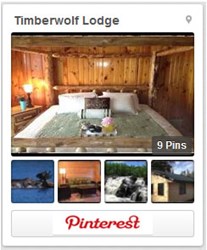 "We're excited to invite our guests to participate with us on Pinterest." said resort owner Roger Bruhn.
Ely, Minnesota (PRWEB) December 30, 2013
Timber Wolf Lodge has just opened an account on Pinterest! They are excited to share vacation scenes and memories with past and future guests via the pin board at http://www.pinterest.com/timberwolflodge/. The beauty of Bear Island Lake and the surrounding wilderness have allowed visitors to capture some amazing photographs. From expert photographers to those who snapped a pic with the smart phone, many outstanding images have been taken and shared with the staff of Timber Wolf Lodge. Desiring to share these stunning scenes with others gave birth to the creation of the Pinterest board.
Pinterest pages act as a personal pin board. Much like the old cork boards used to tack up notes, family photos and other tidbits, a pin board allows the participant to save interesting photos in a place where they will be easy to find. It also makes it easy to share images with others who have similar interests.
In the case of Timber Wolf Lodge, the opportunity for guests to share their adventures at the resort and in the nearby Ely area was quite appealing. With this new pin board, they hope many guests will discover the simplicity of sharing vacation photos and adventures via this avenue. Sharing favorite activities, accomplishments (like that whopper bass caught just offshore) and scenes of life in the northwoods (wild or otherwise!) is simple to do. Once posted, it is easy to share again and again, or to "re-pin" at will.
Timber Wolf Lodge is located near the vast wilderness that makes up the Boundary Waters Canoe Area. With thousands of acres public land, more than 1200 pristine lakes, streams and waterways, a huge variety plant, bird, fish and mammal species, the chances to capture outstanding photographs are everywhere.
Capturing great photos of an authentic Minnesota vacation experience is easy no matter the skill level of the photographer or his/her ability to hike, canoe or bike. Timber Wolf Lodge offers guests such amenities as sunset cruises on Bear Island Lake and guided, easy walking & canoeing tours. The resort has provided each cabin with a fire ring and a supply of campfire wood too. Photos of crackling fires and glowing embers rimmed with the dark shapes of the pines in the evening background evoke special memories for most guests. The visual can actually conjure the smell of the wood smoke mixed with the scent of pines and accented with the sound of loons calling across the lake.
Vacationing at Timber Wolf Lodge offers a myriad of opportunities to interact with nature, outdoor sports, small town community life and seasonal celebrations. When day is done, guests settle comfortably into updated cabins featuring the luxuries of home. Sleep number beds, internet access, Keurig coffee makers, and luxury linens and pillows invite rest and relaxation.
"We're excited to invite our guests to participate with us on Pinterest. They've been kind enough to share photos with us over the years and we delight in seeing the scenery and wildlife they capture, as much as we delight in seeing the photos of the kids holding up the fish they caught, or the parade they attended in Ely! Scenic photos, happy photos, silly photos, nature photos, your favorite photos from your northern vacation, we hope you will share them with us and our other guests via our Pinterest board at http://www.pinterest.com/timberwolflodge/. Come to view the pictures and share them with your friends and family. Get them all thinking about their next chance to come north to Timber Wolf Lodge!"
Cabins are available from one to five bedrooms in size. For more resort information, or to inquire about dates and availability, visit the http://www.timberwolflodge.com website or e-mail us at guests(at)timberwolflodge(dot)com The staff of Timber Wolf Lodge will help you achieve the most memorable vacation of your life at the edge of the wilderness in northern Minnesota!