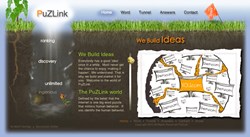 (PRWEB) December 30, 2013
Search Engine Tunneling | PuZLink.com
PuZLink.com has announced an initiative to help small companies with big ideas do business online, utilizing a method that has helped build a brand identity for larger Web enterprises.
PuZLink created search engine tunneling (SET) as a more effective way for businesses and consumers to find and connect with one another online. SET is based on the idea that the Internet is a word puzzle that recognizes and responds to human behavior—specifically, what consumers are searching for online.
Search engine tunneling helps businesses get out in front of that process and harness the power of words to anticipate behavior and communicate directly with consumers looking for their products or services.
"In the traditional marketplace of years past, local entrepreneurs running small businesses were limited to selling their products or services almost exclusively on the local level," said David Capo, founder of PuZLink.com. "The Internet changed that, and search engine tunneling is the ideal method for small business owners with big ideas to establish themselves online and take advantage of the opportunities available to them on the World Wide Web."
Key to the process is the marketability of a product or service in the global marketplace. PuZLink.com works with entrepreneurs who are prepared to work hard and adapt to the demands of growing a business on a national and/or worldwide scale.
"We build ideas, and from those we build brands," said Capo. "We do it by harnessing the credibility and power of search engines to help companies build an enterprise that has legitimacy for the online consumer."
PuZLink.com recognizes that good ideas can come from even the most unlikely sources, and believes that the Internet has created an even playing field for any entrepreneur who has the product or service, and the determination, to be successful.
"Before the Internet, the primary means of reaching a mass audience involved either expensive advertising, costly direct mail campaigns, or the sheer luck of being discovered by someone who could invest in those things on your behalf," said Capo. "Now an entrepreneur with the right idea can take it online practically overnight, and their odds of succeeding are greater if they utilize the right techniques."
Businesses interested in learning more about PuZLink and search engine tunneling are invited to visit http://www.PuZLink.com for more information.
About PuZLink:
PuZLink LLC works with companies to succeed online by building ideas that will in turn build a business. The company welcomes inquiries from individuals or businesses interested in harnessing the potential of the Internet to build an online enterprise utilizing PuZLink's proprietary approach to search engine tunneling (SET). More information is available online at http://www.PuZLink.com.
Media Relations:
Tom Delamater
Delamater Media Group
(330) 437-5975