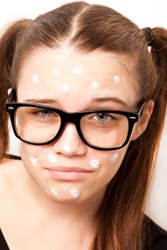 Being able to have flawless skin is finally a possibility
Delray Beach, FL (PRWEB) June 30, 2013
Bella Reina Spa is pleased to introduce a new acne skin treatment named the Oxy-Acne Facial that is producing amazing results for those clients plagued by cosmetic, hormonal or dry skin acne. The treatment design happened when an acne client needed a treatment right before attending her best friend's wedding. While needing extractions, the client also needed her skin to appear bright and glowing for her special event.
"My skin looked amazing for my friend's wedding and I was so pleased that I booked another treatment the following week," said Rebecca. She goes on to say, "Adult acne is no fun and it affects every part of your life including your self-esteem. Being able to have flawless skin is finally a possibility."
The new acne skin treatment combines papaya and pineapple enzymes to exfoliate the surface of the skin prior to a special "bella" blend extraction gel. Following extractions, the cutting-edge effervescent oxygen masque oxygenates at the cellular level. The oxygen works in two ways killing the bacteria and settling into the tissues to speed up the healing process. The more oxygen the cells have, the better they can function in the repair process of healing the damaged skin from acne.
The next step applies pure plant cell boosters to enhance, rejuvenate and rebuild the damaged skin. The cell boosters actually help the acne damage while assisting with the tissue regeneration giving the skin an undeniable glow. The last step of the Oxy-Acne Facial includes a tinted SPF 30 that is a broad-spectrum sun-screen with a tint that protects the skin against free radical damage while infusing Vitamin A, C & E into the skin.
For more information on the Oxy-Acne Facial, call Bella Reina Spa at 561-404-7670.
Company Information: Bella Reina Spa is the leading provider and definitive authority on beauty, wellness and spa treatments in the South Florida area. While located in Delray Beach, Bella Reina Spa services Boca Raton, Boynton Beach and the South Florida area with specialty spa treatments including microcurrent facials, microdermabrasion, fibromyalgia massages, medicure pedicures, and infrared body wraps. Bella Reina Spa was created by Nancy Reagan, a nationally recognized expert in beauty, nutrition, weight loss, skin care and makeup. Nancy and Bella Reina Spa have been featured in the New York Times, WebMD, Les Nouvelles Esthetique & Spa, and PC Advisor for spa industry expertise and business success. To learn more about how Bella Reina Spa is constantly innovating spa services, programs and packages please visit BellaReinaSpa.com.