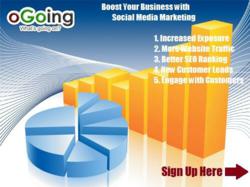 Irvine, CA (PRWEB) June 30, 2013
oGoing has introduced an amazing yet affordable new social media marketing boost solution, oGoing Pro, for $39 monthly.
"oGoing Pro Social Media Marketing service has greatly increased our exposure in the little time they have taken over our account. Not only has the oGoing team improved our chances of letting people know about our live tournaments and events in Las Vegas, they have taken care of situations in a very fast and timely fashion. Their very affordable fees make oGoing a very reasonable and sensible solution to the small business companies." - Lily Ann Hainline, Gin Rummy Association
"Majority of small businesses and SMBs do not have a huge social media marketing budget; owners, entrepreneurs and service providers are looking to supplement their marketing with affordable social media services that create persistent exposure, generate website traffic, increase warm leads and attract new customers. oGoing Pro is a perfect solution for these cost-conscious customers for a nominal monthly investment of $39." Sanjay Dalal, founder / CEO, oGoing
Who uses oGoing Pro?
Small Business Owners, Professionals, Entrepreneurs, Startups and Service Providers who don't have the time and resources to promote their business, are looking to grow their business with more leads, and want a powerful social media marketing solution that is affordable and doesn't break the bank!
"We are using oGoing Pro to help promote our video production services and we could not be happier with the results." Ernie Castelo, Skyline Mediacast Productions. oGoing helped Skyline by promoting their $250 YouTube, Vimeo and Website video production solution, and generating warm customer leads.
Learn more about oGoing Pro - Social Media Marketing Services for $39 monthly.
About oGoing: Ogoing.com is USA's leading social network for small business. Ogoing gives owners, service providers and entrepreneurs a powerful social media marketing platform that promotes the business, attracts new customers, boosts online visibility, improves website traffic and accelerates sales.
oGoing Helps Small Businesses Find New Customers!