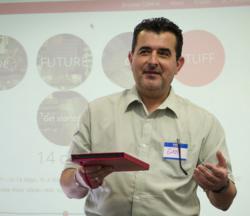 Five years ago, consumers weren't as interested in where a product was made," said Gabi. "Discussions and projects like Breaker Challenge are helping to connect the importance of locally-made products with the ongoing efforts to stimulate the U.S. economy
San Francisco, CA (PRWEB) June 30, 2013
iDreamCase founder and CEO Gabi Hanoun was one of three featured panelists in this year's Breaker Challenge, "The Future of Stuff." The program is a prototype for challenge-based, hybrid learning. Spanning 14 days from June 19 to July 2, 2013, the group emphasized design-driven social entrepreneurship. Locally manufactured products were among the most popular topics.
"Five years ago, consumers weren't as interested in where a product was made," said Gabi. "Discussions and projects like Breaker Challenge are helping to connect the importance of locally-made products with the ongoing efforts to stimulate the U.S. economy through job creation."
iDreamCase exemplifies the dynamic and nimble requirements for small businesses in the current economic environment. Calling on years of training as a master bookbinder, Gabi does not focus on the fact that books are being phased out of our culture. Instead he has paired his skill with the constantly evolving tablet technology market. The results are unique, one-of-a-kind cases.
While the main challenge of small businesses is often overseas competition, iDreamCase focuses on developing quality within their unique, handmade product. "From using brass type fonts to emboss the covers, to sourcing luxurious Italian leather," Gabi said, "our clients can literally feel the difference of a handcrafted iDreamCase product."
About iDreamCase
iDreamCase handcrafts superior quality, truly handmade products using only the finest materials. Guided by our strong commitment to handmade artisanship, iDreamCase designs and creates luxuriously protective handmade iPad® cases, iPad mini® cases, Nexus 7® cases, Kindle Fire HD® cases and iPhone® 4/4S/5 cases. Made from elegant fabrics imported from Italy and exclusive genuine leather, iDreamCase products offer a superior design aesthetic, provide sophisticated style and protection, and reflect centuries-old, unmatched handmade craftsmanship. Master bookbinder Gabi Hanoun artfully weaves over 30 years experience into each handmade tablet case and sleeve and smart phone sleeve, truly revolutionary products in handcrafted artistry.
http://idreamcase.com
About Cardoza-James Binding
Cardoza-James Binding provides quality products and the best bookbinding services. For all entities, from professional services firms and printing companies to independent photographers, our handcrafted binding services showcase materials with superior presentation. Cardoza-James binds books, creative works, and other specialty products in a classic and traditional way to fit custom specifications. Hallmarks of our dedication to quality and excellence include winning the Gold Award from Printing Industries of Northern California (PINC) over past 10 years and the Gold Award from San Francisco Gallery over last 5 years.
Contact:
iDreamCase
support(at)idreamcase(dot)com
Written by Laura Frank