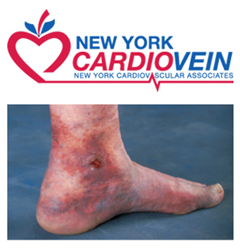 When it comes to varicose veins, the twisted, bulging, or discolored veins that often appear on the legs, unfortunately one of the main risk factors is aging
New York, NY (PRWEB) July 17, 2013
New York Cardiovascular Associates, a leading health center for cardiac, vascular, and pulmonary care in New York City, strives to educate patients about vein conditions, and steps they can take to reduce their risk. When it comes to varicose veins, the twisted, bulging, or discolored veins that often appear on the legs, unfortunately one of the main risk factors is aging, say vein experts at the New York center.
As people age, veins age as well. Normal wear and tear with aging can weaken vein walls and reduce their elasticity, increasing the likelihood of developing varicose veins.
Just because varicose veins develop with normal aging, however, doesn't mean that treatments aren't available, says New York Cardiovascular Associates. The New York vein experts are focusing their Facebook, Twitter, and Google+ pages on discussing safe and effective vein treatment options for varicose veins in older adults throughout the month of July.
Varicose Vein Treatment Options
Vein disease affects tens of millions of people in the U.S. alone. One of the most common vein disorders is varicose veins. Varicose veins and spider veins can significantly impact a patient's health and quality of life. New York Cardiovascular Associates provides a number of effective treatment options for varicose veins and spider veins.
Vein treatment at New York Cardiovascular Associates may include lifestyle changes, or a procedure to eliminate or reduce the appearance of abnormal veins. These treatment options include sclerotherapy, ambulatory phlebectomy, endovenous laser ablation, and radiofrequency ablation. Varicose vein removal procedures are minimally invasive, and are performed on an outpatient basis to ensure faster recovery times with optimal results.
About New York Cardiovascular Associates
New York Cardiovascular Associates is New York City's premier center for cardiac, vascular, pulmonary, sleep disorder, and primary care. The center has been providing the five boroughs of New York with leading-edge care since 2005. New York Cardiovascular Associates is unique in giving patients access to a team of physicians that encompasses every field of cardiology. From the center's Manhattan office, NYCVA cardiologists provide complete patient services, including heart disease prevention, cardiac screenings, and treatment for the full range of cardiovascular conditions. In addition to superior cardiac care, New York Cardiovascular Associates provides vascular, arterial, pulmonary, and internal medicine care. Physicians and specialists work together to develop comprehensive treatment plans, whether treating patients for a single condition or for multiple health issues. NYCVA has earned multiple national accreditations, and its doctors and technologists are recognized among the top experts in their fields.
To read more, go to http://www.nycva.org.
Contact
New York Cardiovascular Associates
646-233-1838