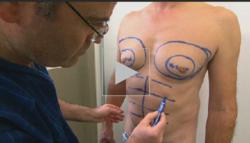 This is based on new procedures, better technology and it becoming more accepted and fashionable.
(PRWEB) July 09, 2013
On Tuesday night (9/7/2013) the National SBS Insight program is featuring a detailed analysis of Cosmetic Surgery in Men. Celebrity Cosmetic Surgeon Dr Daniel Lanzer is the cosmetic surgeon who is interviewed about the latest trends in this area of medicine. Dr Lanzer has been featured in the media over the last 20 years whenever there is a new breakthrough in cosmetic procedures. Twenty years ago he explained liposuction, latter laser cosmetic surgery, face lifting, fat blasters, fat banking and anti-aging devices.
Jenny Brochie, the host, asked Dr Lanzer to explain why men are having more cosmetic surgery. "This is based on new procedures, better technology and is becoming more accepted and fashionable.The most common procedure he sees is man boob reduction, 6 Pack Hi definition liposculpture, removal of the so called love handles and stem cell face lift. Men also commonly have laser eye lid rejuvenation, laser removal of scars and sun damage, removal of the sagging neck and cosmetic fillers and relaxants."
The patient featured on television was a middle aged train driver with a long standing flabby stomach and female appearing breasts. Dr Lanzer is followed as he marks and operates on him. The audience is kept waiting till he publicly takes off his top to reveal a natural athletic stomach with a 6 pack, tight pecs and a body that would normally take years of gym work to possibly acquire. He also had the stem cell face lift with fat injected into his cheeks and fat store in the new Banking Facility, laser eye lid surgery and laser wrinkle therapy.
Dr Lanzer is known as a world pioneer in Liposuction method particularly breast reduction and has been at the forefront of new developments.
Recently he opened Australia's first Cosmetic Surgery Bank where patients can store their own stem cells for future cosmetic purposes.