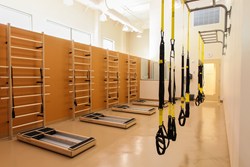 "In 10 sessions you'll feel a difference. In 20 sessions you'll see a difference and in 30 sessions you'll have a whole new body." ~ Josesph Pilates
Arlington, VA (PRWEB) July 16, 2013
My Thrive Pilates is pleased to announce the opening of their second location in the Courthouse Plaza of Arlington Virginia, complimenting its existing location located at 2800 S Randolph Street Arlington Va. The newest studio is located at 1401 N Adams Street. My Thrive Pilates offers a complete range of Pilates instruction: Private & Duet Apparatus sessions, Group Reformer and Mat Pilates, Corealign and TRX. My Thrive offers a variety of class levels to meet the fitness level of all clients and guarantees a full body workout to strengthen and lengthen the body, and improve endurance, flexibility, and balance.
"We are thrilled to be expanding and able to offer our clients a second location with new and exciting classes," Stephanie Westberg, Owner.
The Courthouse studio has implemented the revolutionary fitness program, TRX, which uses gravity against the individual's body weight to develop strength, balance and flexibility. CoreAlign, by Balanced Body, is another unique Pilates class that will be featured at the My Thrive Courthouse studio. CoreAlign uses a frame with two tracks and carts that move independently with smooth resistance to help improve posture, balance and functional movement.
The Courthouse Studio is adjacent to the Residence Inn Hotel. Parking is located under the Courthouse Plaza that can be accessed by Clarendon Boulevard or 14th street. Street parking is also available on 14th street.
With classes held every day of the week at both studios, My Thrive Pilates is convenient for anyone interested in Pilates and looking to improve their overall health and fitness. Easy online scheduling can be found for both locations on the studio's website at http://www.mythrivepilates.com. For more information, please contact My Thrive Pilates at info(at)mythrivepilates(dot)com.
My Thrive Pilates, 1401 North Adams Street, Arlington, VA 22201