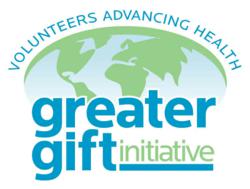 "Our mission has always been to educate our clinical trial volunteers on how important they are....with GGI, we can take the additional step of recognizing our volunteers and thanking them by donating a vaccine to a child in need." Joyce Womack
Winston-Salem, NC (PRWEB) July 01, 2013
The Greater Gift Initiative, Inc. (GGI) welcomes Charlottesville Medical Research Center, LLC, (CMR) to its family of clinical trial site networks. The Greater Gift Initiative honors clinical trial volunteers who make the advancement of medicine possible by gifting one vaccine to one child each time one clinical trial volunteer makes the important decision to participate in a clinical trial. The vision of the GGI is to serve as a philanthropic connector between clinical trial sites, CROs and sponsors by conveying a unified message to the clinical volunteer community that their participation does matter. Since its inception, GGI's site network partners have donated more than 20,000 vaccines through The GAVI Alliance and Rotary International's End Polio Campaign. Its newest partner, CMR, is a local network of physicians in private practice in Charlottesville, Virginia, who are committed to making a difference in the community through clinical research. "CMR is honored to become a partner of the Greater Gift Initiative," said Joyce Womack, Executive Director of CMR. "Our mission has always been to educate our clinical trial volunteers on how important they are to the process of research for advancing world health. Through our partnership with GGI, we can take the additional step of recognizing our volunteers and thanking them by donating a vaccine to a child in need."
Through its partnership with CMR, GGI will donate even more potentially life-saving vaccines to children in the world's poorest communities, who otherwise would not have access to the most basic vaccines. Becca Chase, Executive Director of GGI, said, "From my first conversation with the leadership of Charlottesville Medical Research, it was apparent that the organization is driven by its mission to make a meaningful contribution to world health and promote the well-being of its patients and that the partnership between GGI and CMR is a natural fit. We are pleased that this partnership will allow more vaccines to be donated, and that each clinical trial volunteer will have an opportunity to know just how important they are in the development of new medicines and treatments through their participation in a clinical trial."
About Greater Gift Initiative, Inc.
The mission of Greater Gift Initiative, Inc. is to advance global health and highlight the greater good of clinical trial participation by gifting a vaccine to a child in honor of every clinical trial volunteer, under the motto "Volunteers Advancing Health." Visit us at http://www.GreaterGiftInitiative.org
About Charlottesville Medical Research Center, LLC
Charlottesville Medical Research Center, LLC (CMR) is a network of physicians in private practice who sincerely desire to make a difference in the local community through clinical research. CMR's mission is to both advance world health and ensure the protection and safety of all patients who choose to enter clinical research studies. Since 1991, CMR has conducted more than 300 clinical research studies in central Virginia and has earned the confidence and trust of its patients by ensuring quality research while extending a depth of caring to each volunteer. CMR wants each participant to know that they matter. The research center is staffed with three full-time clinical research coordinators, as well as a full-time subject recruiter, and conducts phase II through phase IV research studies in various therapeutic indications. For more information about CMR, visit http://www.cvillemedresearch.com.