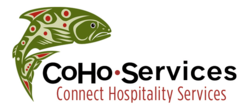 Either way, the common denominator to both businesses is customers and service, and CoHo knows how to maximize both.
Portland, OR (PRWEB) July 02, 2013
CoHo.Services, formerly North Pacific Management, has owned and managed successful hotels and restaurants for the past twenty-five years in the Pacific Northwest, and has recently added a consulting track that focuses on the restaurant, catering, sales and marketing aspects for golf course properties. "The addition of Camas Meadows Golf Course to our clientele lists was a natural progression. Our hotels sell rooms; golf courses sell rounds. Either way, the common denominator to both businesses is customers and service, and CoHo knows how to maximize both," said Brett Wilkerson, President of CoHo.Services.
"CoHo's restaurant platform focuses on incorporating consistency for both the service and the quality of the product that is delivered to the guest," said George Goodrich, Director of Food & Beverage for CoHo. Services. CoHo was hired to grow both food and beverage revenues for the Oaks Bar & Grille at Camas Meadows as well as to improve upon the overall quality and service for the entire property, including both course services and onsite catering. CoHo draws its resources and knowledge from its successful restaurant and catering business, including Hudson's Bar & Grill and Southpark Seafood Grill & Wine Bar.
The unique approach that CoHo takes towards sales and marketing is easily transferable across businesses and industries. The transition into Camas Meadows really focuses on growing the brand of Camas Meadows Golf Club as a public course, along with increasing revenues through catering functions, golf passes and group golf for women and youth. "Our grass-roots sales approach means we believe in the power of people and encourage a face-to-face approach in how we sell and market a business. By building these strong local relationships the brand can create long term customers," said Maili Morrison, Senior Director Business Development for CoHo.Services. "Aside from providing the resources, knowledge and systems to the property, CoHo really helps the property develop their brand marketing strategies from theory to design. We are able to support Camas Meadows long-term growth."
CoHo.Services continues to build its client portfolio. While its foundation is in hotels and restaurants, the addition of Camas Meadows Golf Club supports the vision the company has to expand its services across industry lines.
CoHo.Services or Connect Hotel Services is a hospitality management and consulting company based in Portland, Oregon. With over twenty-five years in the industry, CoHo has the ability to offer a wide variety of hotel management services directed to meet the complex needs of each individual operation and investor group in the most cost-effective manner.
To learn more about the CoHo.Services visit http://www.cohoserv.com.