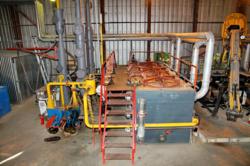 Rostov-on-Don, Russia (PRWEB) July 05, 2013
The Technokomplex company (http://www.tkomplex.ru) has done a number of research followed by modernization of the equipment. As a result, the Pirotex pyrolysis plant became convenient for operation in countries of South America where climate is hot. Finally, the equipment has been delivered to the territory of Colombia.
Technokomplex was carrying out experiments for several months to adapt the Pirotex pyrolysis plant cooling system for the operating environment of countries with hot climate. The results are fruitful. Now the equipment can be easily operated at high temperatures.
As we know, utilization of scrap tires in South America is the issue of the day. That is why Colombian partners turned to Technokompex, the waste tire recycling plant manufacturer. It should be noted the system can utilize not only scrap tires but mechanical rubber goods, plastics, oil sludge and waste oils by method of low-temperature pyrolysis. All the products (carbon, liquid fuel, metal wiring and gas) obtained during the pyrolysis process can be further used.
The company plans to widen the range of its products in South America by offering the Konstanta line for carbon processing which makes possible to produce fractions between 0 and 200 mkm and the Mini Oil Refinery, which processes pyrolysis fuel into gasoline, diesel and mazut.
It is important to note the Pirotex pyrolysis plant is ISO 9000 certified, which means the equipment is eco-friendly. The number of emissions are ten or sometimes even hundred of times lower than those stated in the requirements to maximum permissible concentration of emissions in the air. It allows operation of the Pirotex pyrolysis system for utilization and recycling of scrap tires on the territory of Europe and the Americas.
Technokomplex, a small-scale pyrolysis plant manufacturer and supplier, presents pyrolysis machine and auxiliary equipment for processing the products like pyrolysis carbon and liquid fuel into commercial fractions. The company has begun its business in the field of utilization in 2005 and since that time it continues to develop successfully. Today equipment manufactured by the company operates in many cities of Russia, Bulgaria, Turkey and now the USA.