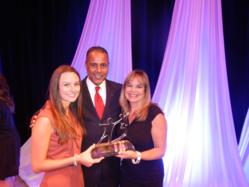 Nerium's support and creativity are transforming how we carry out the service to our youth in communities around this country.
Denver, CO (PRWEB) July 01, 2013
On June 25, 2013, the Big Brothers Big Sisters Community Impact Award was presented to Nerium International. This award is given to the donor whose energy and generosity has greatly impacted the community of the mentoring organization. "Nerium's support and creativity are transforming how we carry out the service to our youth in communities around this country," says BBBSA's CEO, Charles Pierson.
Nerium International believes in investing in others, which is what inspired them to launch the Nerium Ripple, a program based on "individually taking responsibility, collectively changing the world." The Nerium Ripple's core cause is to create positive change, or positive ripples, in everyday life; to create an environment that fuels camaraderie, sharing, and growth; and to pay it forward and create a better world in the process.
In an effort to further The Nerium Ripple, Nerium partnered with Big Brothers Big Sisters of America (BBBSA) in September of 2012, as the organization embodies Nerium's belief in the "paying it forward" philosophy in a real and practical way.
Nerium has encouraged its independent representatives, known as Brand Partners, to join with Big Brothers Big Sisters in a variety of ways: by becoming a "Big," donating a percentage of their commissions, and/or participating in local "Bowl for Kids' Sake" events. Nerium International and its Brand Partners have donated over $300,000 to Big Brothers Big Sisters nationally and locally over the past year, and hundreds of Brand Partners and Nerium employees have volunteered to be "Bigs."
Says Co-Founder and Vice President of Marketing and Culture of Nerium International, Amber Olson Rourke, "The biggest ripple you can create is through impacting the life of another. Big Brothers Big Sisters is a natural extension of The Nerium Ripple. We enjoy seeing Nerium Brand Partners fill the need of 'Bigs' across the country and impacting their community in a 'big' way!"
"It is very exciting when two organizations committed to personal enrichment lock arms around a common cause. Big Brothers Big Sisters provides a vehicle for Nerium Brand Partners to make a huge 'ripple' that will ensure that all children, regardless of current socio-economic status, will have that slight edge needed to embark on a successful pursuit of the American Dream," states Lowell Perry, VP of Corporate Partnerships for BBBSA. "Big Brothers Big Sisters can only benefit from such a passionate group of Nerium Brand Partners. Throughout the nationwide network of 347 BBBSA affiliates, there's a dedication to improving the lives of children. Combined with enthusiastic support from all levels of Nerium International, you end up with a recipe with the potential to have an unprecedented impact in the youth empowerment business."
A video from the ceremony can be seen here.
The mission of Big Brothers Big Sisters is to foster positive and enduring one-to-one mentor relationships with children facing adversity. Learn more at http://www.bbbs.org/nerium.