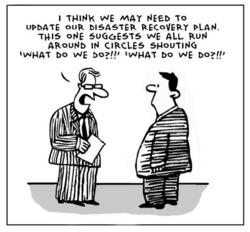 "80% of U.S. companies lack a DR plan"
-Disaster Recovery Journal

"50% of SMBs worldwide have no recovery plan"
-Symantec 2012 SMB Disaster Preparedness Survey Global
Los Gatos, CA (PRWEB) July 02, 2013
Already more than six million people have been registered, more than doubling in the last month as school districts, organizations, and individuals have renewed their commitment to participate again this year. Alongside them will also be many first-time participants.
Over the past five years it has been seen that when more people register for the Great California ShakeOut, many more are motivated to participate and get prepared. Participating organizations can lead the way, and make a substantial impact on newcomers' earthquake safety practices and preparedness.
This year, ShakeOut is expanding further with several new ShakeOut regions being established. In total, more than 30 states and territories may be involved on October 17th. While some states and countries will be holding ShakeOut drills on other days, a total of more than 20 million people worldwide will likely participate in 2013.
For those who are interested or plan to participate, further information and details on registration can be found at ShakeOut.org/california.
In the meantime, WorkSafe Technologies of Northern California would like to help out as well. WorkSafe has decided to continue offering its non-structural seismic facility audit at no cost. WorkSafe specialists will conduct an on-site walk through to locate egress issues, health and safety risks, as well as evaluate high-value equipment critical to ongoing organizational success. The audit will conclude with a detailed, itemized quote. The quote will explain what each piece of equipment requires to be mitigated. This provides a starting point for deciding which risks are or are not worth taking.
To help spread the word about ShakeOut, WorkSafe encourages all registrants (current and prospective) – or even supporters – to share the information at upcoming family gatherings, community events, work meetings, and online through email or social media. Web banners are also available for use on organization websites, as well as posters, flyers, and other materials on the ShakeOut Resources page.
WorkSafe Technologies has been providing non-structural seismic mitigation products and services for over 20 years. No one offers more truly innovative ways to protect your enterprise! From state architect approved fastening methods, to our innovative seismic isolation technology, we can protect your critical equipment from damaging earthquakes.