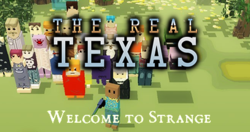 "a unique experience unlike anything you'd find on store shelves ... an extremely well-written adventure through an incredibly quirky universe." - Destructoid
(PRWEB) July 03, 2013
IndieGameStand (http://www.indiegamestand.com) is excited to feature Kitty Lambda's Zelda and Ultimo inspired adventure game, the Real Texas, over the July 4th Independence Day Holiday. For the first time, Paradise Perfect Boat Rescue will also be available as a beat the average bonus. Paradise Perfect Boat Rescue is a bite-sized game with excellent and fun boat physics still in development.
The Real Texas is a unique blend of action-RPG with strategic real-time combat and many-layered puzzles. Quests and story situations all play into the central mysteries of Strange, a town with a vast, interconnected dungeon underneath. Add to all of this a challenging quickdraw gun-combat system with six types of classic cowboy and fantasy weapons, a full clothing and equipment system (underwear optional) with various effects, and The Real Texas has a lot to offer any fan of old-school Zelda-like RPGs or action-adventure games.
As with all IndieGameStand featured games, customers get to decide how much to pay for the game. Anyone who pays a dollar or more receives a code to unlock the game on Desura and GOG. Beat the Average to unlock a slew of bonus content and Paradise Perfect Boat Rescue. Pay $10 or more to receive an indie game bundle that will include the Real Texas, Paradise Perfect Boat Rescue, Constant C and our next Mystery Game. Developer, Kitty Lambda (http://www.kittylambda.com) has selected the Trevor Project to receive 10% of the proceeds from this 96-hour sale. The Trevor Project is a charity that provides crisis intervention and suicide prevention for gay, lesbian, transgender, and bisexual youth.
To learn more about IndieGameStand and get the Real Texas for whatever you choose to pay, visit http://www.indiegamestand.com.
About Indie Game Stand
Founded in 2012 and launched on September 26th 2012, IndieGameStand.com is a new, low-barrier of entry way for indie developers to promote their games and be included in a dynamic indie gaming bundle. Indie Game Stand hand-selects every game that is offered on our service. Each game gets four days to shine on our homepage in a "pay what you want" sale. Any games purchased from Indie Game Stand will be yours to keep forever and stored in your game wallet on our site. Learn more at http://www.indiegamestand.com.