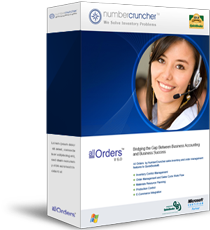 Whether a company deals with electronic equipment or industrial machinery, this software can streamline repair operations, saving both time and money.
Hollywood, FL (PRWEB) July 02, 2013
NumberCruncher, a QuickBooks® Gold Partner, recently released a new module for its All Orders inventory control and order management software. The update, which is available for immediate download, includes return merchandise authorization (RMA) and repair tracking features which help clients simplify internal processes and provide better customer service.
"RMAs and repairs can be hard to supervise. Usually, they involve many different tasks that need to be monitored and linked together," says Ian Benoliel, CEO of NumberCruncher. "All Orders can track every step of the process, from documenting problems and issuing an RMA to returning products and invoicing customers." The new functions work seamlessly with other All Orders modules.
Clients can use the RMA and repair functions to manage the entire process on a single display screen. The software uses repair codes to find problem areas, tracks receipts and shipments, and locates products in particular bins. Users can check warranty information and repair history by serial number, assign repair orders to technicians, and allocate parts to each repair. The software also allows clients to attach images and documents to a specific RMA. These steps can be used to create customized repair order and RMA reports, and all repair operations can be integrated with QuickBooks financials.
Daniel Blackmer is Director of Engineering for Earthworks, a U.S.-based manufacturer of precision-engineered microphones. Earthworks began using All Orders two years ago and recently added the repair tracking functions. "The RMA/repair module allows us to keep track of repairs independent of returns, and the problem description and technicians' notes sections for each serial-numbered item help us optimize our repair process," declares Blackmer. "This is critical since multiple departments may handle different aspects of a repair. Each tech can record and reference exactly what they see in front of them."
He continues, "When an item comes in to be fixed, we can use the serial number to track who built the product, when it was built, and exactly which components were purchased from each vendor. We can also see where the product is in the warranty cycle, if it's been returned before and why, and know which repair parts were used previously (along with where they were purchased). All Orders provides exactly what we as a company need."
"Any business that has repair operations can benefit from the RMA and repair order functions in All Orders," concludes Benoliel. "Whether a company deals with precision electronic equipment or farm and industrial machinery, this software can streamline repair operations, saving both time and money."
A free trial version of All Orders is available on the company's website, http://www.numbercruncher.com.
About NumberCruncher
NumberCruncher, a QuickBooks® Gold partner, is the leading provider of inventory and order management software for the QuickBooks® community. Founded in 1999, the company was the first developer to invest in the QuickBooks® SDK (software development kit) from Intuit. NumberCruncher offers a suite of QuickBooks® inventory add on solutions (All Orders) that deliver affordable ERP capabilities to SMBs.