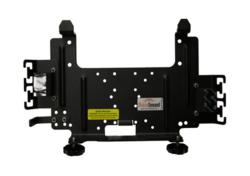 The new xTablet T1200 cradle does just that and more, maintaining the rugged mobility aspect of the tablet while streamlining installation and improving operator safety by keeping cables and peripherals neat and organized.
Hiawatha, IA (PRWEB) July 02, 2013
Ruggedized tablet PC manufacturer MobileDemand introduces a new tablet cradle for the xTablet T1200 rugged Windows tablet PC. Developed for use in vehicles, on forklifts and mounted to walls (e.g. work order processing, data gathering), this innovative cradle secures the tablet firmly in place as well as allows for quick release for mobility applications or recharging. With the 11+ hour battery life of the xTablet T1200, users can save the cost of a power converter, cabling and installation. Paired with the tablet, the new MobileDemand cradle can also simplify operation and improve operator safety.
The xTablet T1200 cradle utilizes the same flexible mounting hardware as used on MobileDemand's powered vehicle docks. For theft protection a Kensington lock system can be used. This robust mounting solution provides all-day reliable operation with military grade specifications to handle the repeated pounding, shocks and vibration typically endured in industrial forklift environments.
For most applications the extended-life battery of the xTablet T1200 delivers more than a full-shift of performance without the need for cables or a power converter. For applications where they are required, the MobileDemand cradle has been designed to effectively address the challenges of these high failure points which are typical with traditional vehicle mount solutions. The xTablet T1200 cradle has cable strain relief brackets located on each side, a cable channel to route cables to the middle and back for clean installation and additional holes for using zip ties (included in the wiring kits) to secure the cables. Together they ensure minimum movement and safe operation for users.
For those environments that require extreme tablet usage or the tablet to be mounted permanently in the vehicle the xTablet T1200 vehicle cradle provides safer and simpler installation with a bracket to hold the most common power converters on the back.
"With warehousing, logistics and transportation being a few of our top target markets, we wanted to create a unique, durable cradle what would be useful across multiple applications – from receiving and put-away to picking and shipping," says Senior Director of Product Management and R&D at MobileDemand, Jon Rasmussen. "The new xTablet T1200 cradle does just that and more, maintaining the rugged mobility aspect of the tablet while streamlining installation and improving operator safety by keeping cables and peripherals neat and organized."
The xTablet T1200, the world's first Microsoft Windows 8 rugged tablet, has a large 10.4 inch touchscreen, two hot-swappable batteries for 11+ hour battery life and is IP65 and MIL-STD 810G which means information is safe, even when used in high vibration environments or when the tablet is dropped, shocked or exposed to water and dust. With an integrated bar code scanner, color camera and numeric keypad, along with Bluetooth 4.0, 4G LTE and other features, the xTablet T1200 is sure to help improve operational efficiency and productivity. For even greater efficiency a wireless Bluetooth scanner can be used with the xTablet T1200 to eliminate the scanner cable. Windows 7 is also available on this rugged tablet PC.
About MobileDemand
MobileDemand is the nation's leading provider of rugged tablet PC systems used in the transportation industry to improve productivity, anywhere. MobileDemand xTablets are used by mobile workers in many other industries including Food and Beverage Distribution, Manufacturing, Retail, Field Service, Military and Public Sector to cut operational costs and improve customer service. MobileDemand xTablet Rugged Tablet PCs and accessories are built military rugged to withstand harsh environments. They deliver the power, reliable performance and long-term savings companies need to achieve greater efficiency and productivity in the field. In 2012 MobileDemand earned the position of 1,034 on the 2012 Inc. 500/5000 list of the nation's fastest growing private companies. The company has built its success on a commitment to innovation everywhere – in product design, customer relationships and in its channel. President Matt Miller also received recognition as a finalist for the prestigious 2012 Ernst & Young Entrepreneur of the Year award. MobileDemand. Innovation everywhere. Productivity anywhere. Additional information is available at http://www.RuggedTabletPC.com.